Food. One of the most important parts of growing and surviving as a human. Our relationship with food begins from a very young age, watching those around us carefully as they move this mysterious substance towards their mouths and then open and close their mouths – before it disappears! As we get older, we then get to try our own foods, some with more success than others.
Apart from taste though, there is so much more to our enjoyment of food that we need to develop – the texture, the smell, the look and in some cases, the sound! In October, baby food brand, Ella's Kitchen, launched a campaign calling on the government to introduce sensory food play in all early years settings in a bid to improve childhoo
d nutrition.
At the same time, over on Twitter, a discussion began around the use of food in play, with some saying that the use of food, when some families are struggling to make ends meet in order to feed their children, is not wholly appropriate.
The disagreement between the two sides of the argument possibly comes from how sensory food play is defined. Is it simply using food as a resource that then gets thrown in the bin after being used in a session?  If most people are honest about their practice, after a group of children have finished exploring and playing with an item of food, the chances of it remaining edible/in a condition to use for cooking are slim, although there are certainly times where this is possible. However, if sensory food play is approached as an experience, in which the children are actively engaged in sourcing the food (either by growing it themselves or buying it from the shop) to preparing it for eating and then enjoying it as a meal, then this process seems to give the children a wholesome approach to exploring food, whilst not leading to wasted resources. Cooking/making a meal is also a sensory-rich experience, investigating what foods are in season so that there are plenty of them in the shops, preparing them to eat with others, and taking home what has been made to share with their families.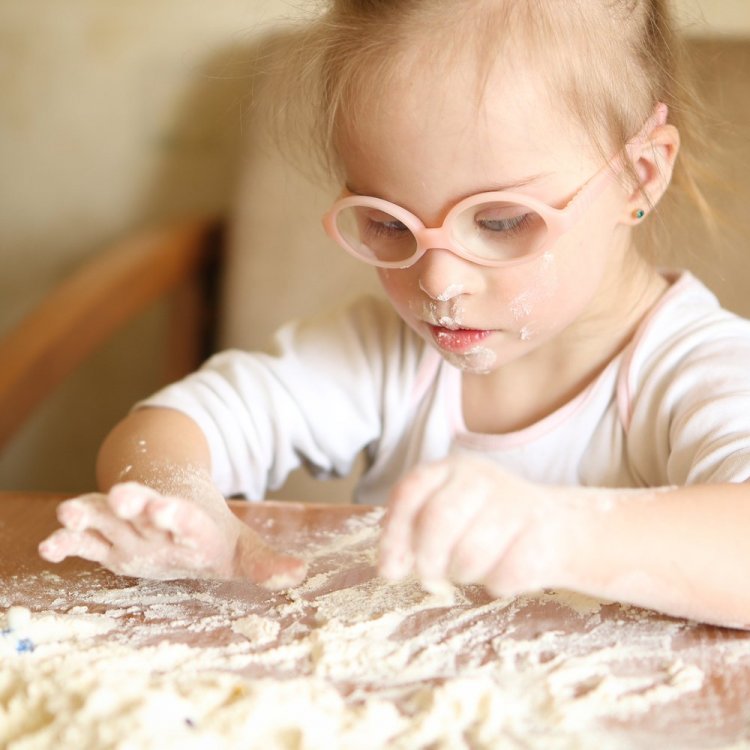 Oral exploration is a key developmental stage and helps children learn about taste and texture. When working with very young children, we need to ensure that safety is the highest priority. Many resources that we would happily provide for 3- and 4-year-olds are obviously not appropriate in a baby room.  Paint, for example, tends to go straight into the mouth of a baby or young toddler, and regardless of whether the product is 'non-toxic', we know that consuming it is not ideal and could lead to a bad tummy.  In these scenarios 'taste-safe' sensory alternatives can be considered, which feel like an appropriate use of food (usually just some corn flour).  This situation can also be found when working with older children with learning differences.  Taste-safe play doh, or even slime, can be an amazing sensory resource (especially if smells are incorporated too), whilst giving peace of mind that a child won't be consuming something that could be harmful.
Food-based sensory resources can be created so that they are reusable. For example, using PVA glue and some grains such as rice, you can create a sensory resource that can be reused. Creating something like these 'sheets' of glue (once dried) and grains allows for ample exploration where children can lie on them, run their hands across them or walk on them with bare feet.
Considering carefully how food-based sensory resources can be reused, adapted, and easily cleaned will contribute to reducing food waste too. We encourage children to explore and investigate whilst being respectful of the resources around them so that we do not have to replace resources often. We can do the same with food, encouraging children to understand how to explore and investigate food whilst being mindful of how they do so, i.e., how much they use, when they would add liquid, and how they can make it reusable too!
So, whilst using food for sensory play may not always be the most appropriate resource, there are certainly ways to ensure that if you do, it is not an exploratory opportunity that leads to food waste.
By Ben Case, Stephen Kilgour and Anya Edwards