This feature allows a setting to quickly and easily change the logged in member of staff, so that a new observation will be in the name of the correct staff member. Additionally it provides a method for the setting manager to control whether or not staff members can log in from outside the setting - a security measure that has been discussed in the Tapestry forum.
This feature is also available on the companion app to Tapestry.
The feature is accessed from the dropdown box against your name at the top:
Click the 'Switch Accounts' item and you'll be taken to the following standby screen: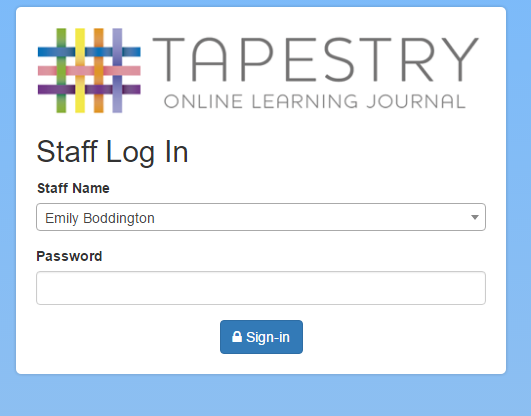 At this stage Tapestry cannot be accessed any more, except through entering either a valid PIN or password. If the password/PIN entered is incorrect you are completely logged out of Tapestry, requiring a full password and email address login.
To then login you will need to select your name from the drop down list and enter in your PIN or password.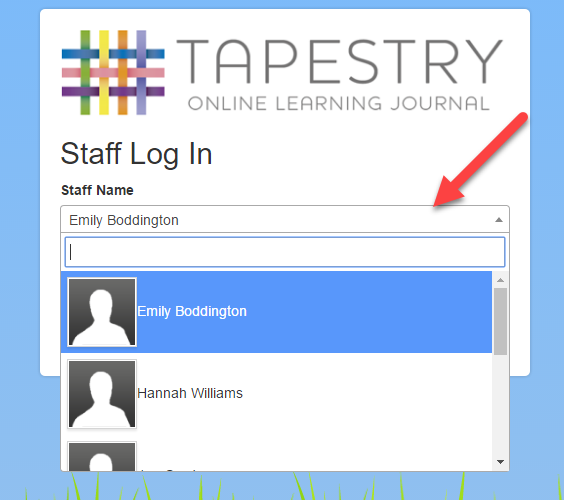 Entering a correct password/PIN returns you to Tapestry, with the appropriate person logged in, from where you can perform any of the tasks your account allows you to do.
Whether it asks you for a PIN or password displays two levels of access. The setting manager can decide who has full access (ie can log in from anywhere at any time) and who can only log into Tapestry from the setting itself, on a PC/device that has already been logged into by a manager/responsible person. Here's how it works:
The level of authorisation is set by the manager from the setting/staff management screen (I'll describe this in detail later). If you would like a member of staff to have full access - eg a supervisor or long-term trusted member of staff - then you need to be able to provide an email address for them (it doesn't actually matter what this is but provides them with the full Tapestry login they'll need to be able to log in from their computer/device). You also give them a password.
If, however, you'd prefer the staff member to only be able to log into Tapestry when they are actually working at the setting, then you don't enter email address or password for them in the setting/staff management screen, simply a PIN. They then rely on a manager/responsible person to perform a full login to Tapestry before they are able to switch accounts using their PIN.
So, hopefully that all makes sense, and provides you with the security levels you need to control access to Tapestry. Now it only remains necessary to show you how to set these security levels, which we do from the (1) Control Panel by going to (2) 'Manage Staff'.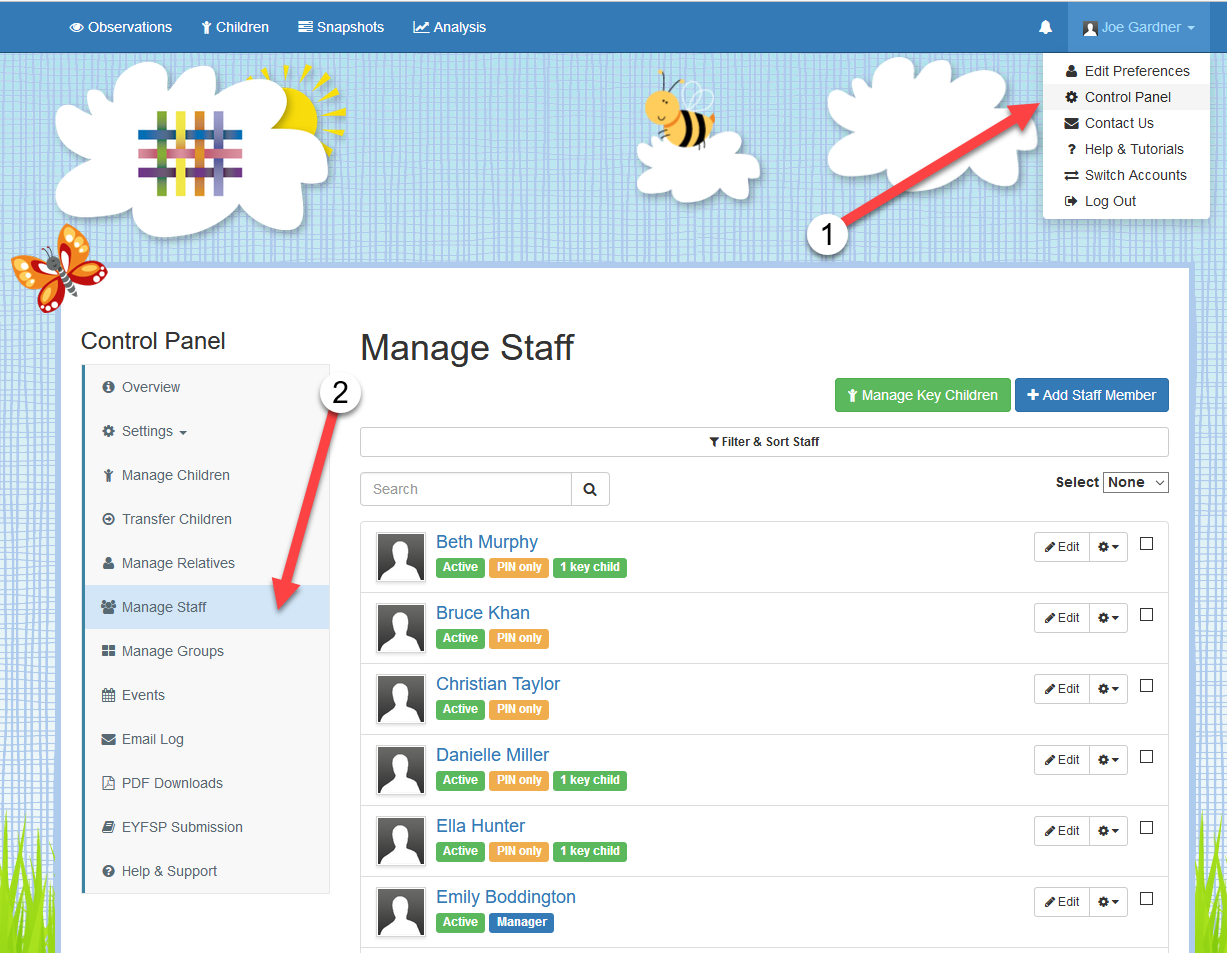 Find the staff member you want to set this for in the list and select 'Edit'. Incidentally, note that where a member of staff only has restricted PIN access to Tapestry this is indicated under their name: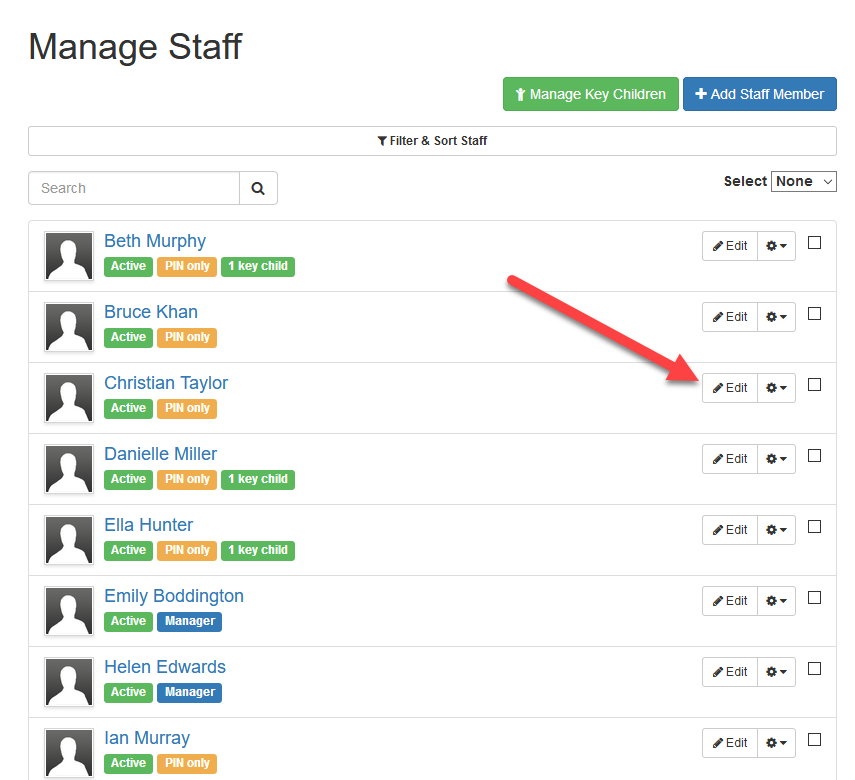 You'll find yourself at the main staff details screen. If you were adding adding a new staff member you'd need to fill out all the details, but in this case we only need to be concerned with the 'Type' field indicated below:

Select whether you want a full account, PIN only account, or whether the staff member is to be regarded as a manager (and therefore have full access, for which an email address and password is automatically required):

If you specify 'Manager' or 'Staff (Full Account)' you'll find the email and password fields appear for you to fill in: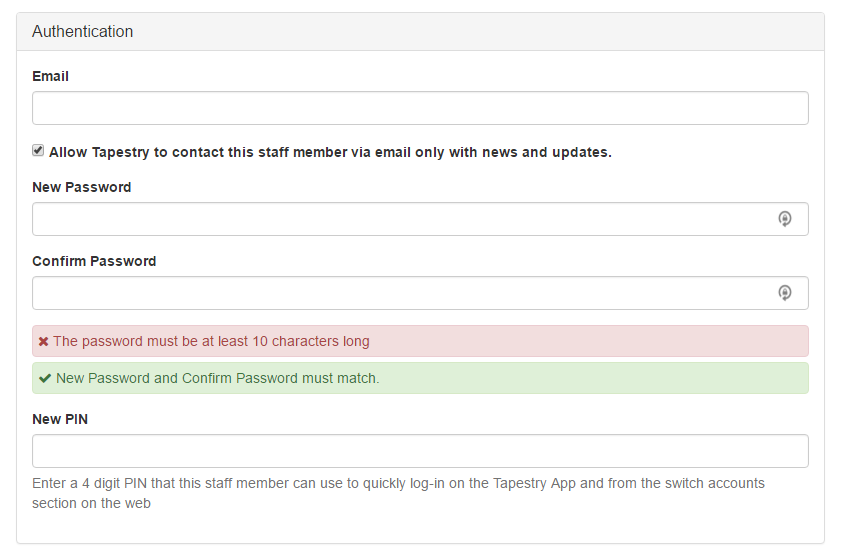 And that's it. Once you've set these details up you have control of where and how your staff access Tapestry, and you also have a quick and easy way of switching between accounts when various staff are adding observations. You should find it's pretty intuitive to get into the habit of clicking 'switch accounts' every time you've finished with Tapestry, so that it's in standby mode for the next person to log in.