Perhaps it's an age thing but I find shadows really fascinating. The fact that light has travelled almost 93,000,000 miles in 8 minutes and 20 seconds and in the last split second an object or person blocks it, stopping it reaching the ground, is quietly mesmeric.
I love watching shadows, especially when out in the woods here in Devon - the sunlight streaming through the tall trees and the leaves choreographing a silent ballet on the floor. The Japanese word 'komorebi' comes to mind in these moments, literally 'trees leaking through light' a reminder of the joy of discovering how languages around the world attempt to describe and explain things that for other languages lie 'beyond language'.
To my mind the world is full of these moments - reflections, small sounds, the wind, even seeing the Moon in the daytime. I hope you notice these moments too as there is a real magic to be found in them and they tend to be a reminder to seek a slower pace of life as best we can.
And it's this magic that I love to immerse in. It's what I call The Gift. It's my belief that The Gift is what we need to show children, because when we do, they begin to see that objects, animals, the landscape, other people and they themselves all have learning and joy within them. They start to notice what is around them with increased awareness and delight and feel a sense of who they are both as learners and as people.
Sharing The Gift requires a subtle shift in perspective from the Adult World. In her brilliant poem 'Do Not Hesitate' the late great American nature poet, Mary Oliver wrote the immortal line 'Joy is not made to be a crumb'. To me, this is a really powerful statement about our interactions with childhood. I believe that it is joy that must come first. When we show the joy of mathematics then childhood leans in. When we share the joy of nature and its connections with us then childhood wants to discover and explore. When we reveal the joy of reading then childhood opens its eyes wider. Learning as Gift, not Graft.
Whenever I'm around children, I'm reminded of The One Hundred Languages of Children' poem by Loris Malaguzzi in which he talks about 'marvelling'. Marvelling with children is one of the most extraordinary things we can do when in the company of childhood. When we do this, when we begin to give children choices and collaboration and creativity and step into these experiences too with a heart that honours and values the choices of childhood, we then begin to see the magic of children and how it craves to be acknowledged.
This is why I am such a passionate advocate of co-play, of the Adult World waking up from its play amnesia to join the flow of childhood. I strongly believe in the 'play-full heart', a heart that carries wisdom and love and skills and joy within it, enabling adults to see childhood for what it is – a time and space of simplicity, invention, exploration and solidarity. When we are in this flow, we begin to put something into the world that it needs more than ever: the Bright Shadow. We start to show children that adults listen, have faith in their choices, advocate for them and want to be co-adventurers into learning, story and the world around us. We cast the Bright Shadow to amplify childhood, not diminish it. We are the Bright Shadow because we acknowledge the joy of being a young child, not 'getting children to write' but instead showing them the joy of writing so that they want to, so that they see and embrace the Gift.
It's for this reason I created Adventure Island, the Message Centre, Drawing Club, Play Projects and the Inventures of Noodle and Titch – to show both children and adults The Joy of Being You and The Joy of Being Me , to share with them the joy of make-believe, to show them how learning can be used like a spell within the world and how play is in the DNA of childhood and can never be taken away no matter how much the Adult World would say otherwise.
It's why Malaguzzi's poem 'The Hundred Languages of Children' so readily springs to mind when thinking about early childhood and our role within it. In a way, these hundred languages and hundred more are the brightest of Bright Shadows, illuminating life and all its corners. And the Bright Shadow of childhood shines into us too, it can penetrate through to the Adult World showing it how to think and be and feel once more. So much of childhood is about feeling, an intense sensory-fed curiosity that makes the world around it a place for hands-on, heart-on exploration, discovery and invention and it is as though it reaches out and urges us to take its hand and BE.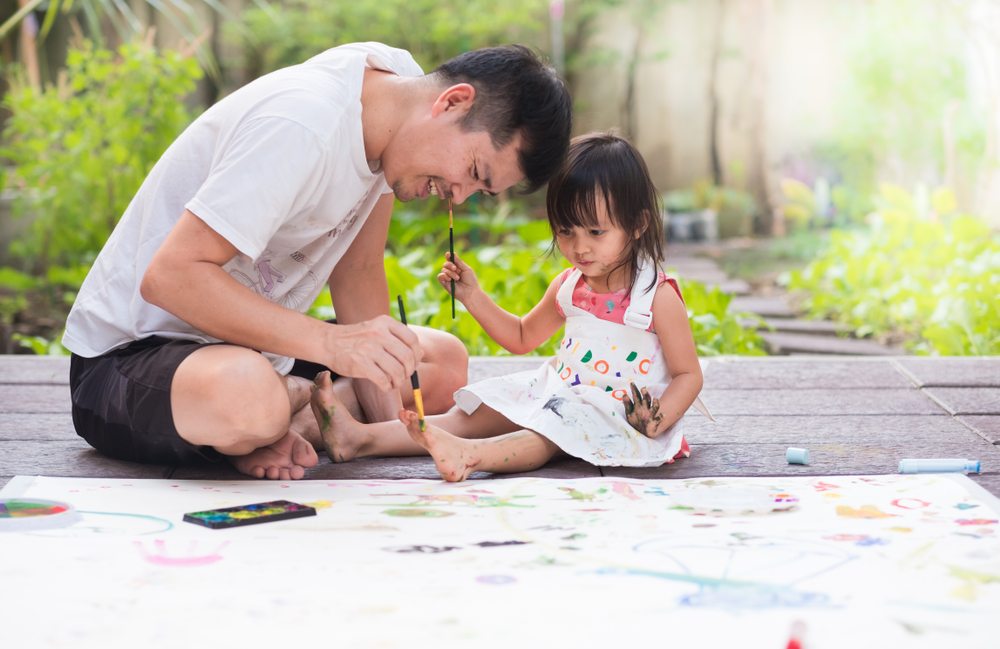 To a degree, when we are drawn into co-play with children, we are creating a Double Bright Shadow, as though both adults and children are a light source to one another, sharing the moment of being together on an adventure into childhood's dreams of building, drawing, making, imagining, running and climbing. We become two Bright Shadows together. I'm sure you have felt this many, many times if you are one of the Play People, those of you who are passionately committed to the magic of children and singing the song of play. You sense that transmission of the Bright Shadow between you and children as you spend Time Together, seeing how childhood interacts with the world and re-imagines it.
In order to witness the magic of children we know that we need to enable them to experience these three things across their days: Creativity, Collaboration and Curiosity. These are what childhood is looking for. It wants the myriad of possibilities that enter the room when we honour children's problem solving, re-interpreting, the richness of their interactions, their questioning and their desire to unfold the world around them so that they can be within it for themselves.
And all three things can only truly happen when we give childhood the ultimate gift of Choice. It always astonishes me that the Adult World, this world of supposed democracy and rights, this world that wants a 'market' of consumerism, seems to fall short when it comes to children. So often the Adult World seems to push children to the side of their own lives, dictating the who, the where, the what and the how. When it does this, it is the opposite of the Bright Shadow…
It's as though we too need to make a choice. We have the opportunity to put our finger on the Control Panel of each day and either slide it left towards More Control or right towards More Choice. The more choice we give, the more autonomy we enable. More autonomy, more developing independence and positive sense of self. Because this is the shadow that means the most, that sense of who we are that forms in the flow of childhood and stays with us as we move into the future that awaits. This self-perception, this understanding of our own great potential, our own courage to meet life with a Big Heart is one that can follow us for the rest of our days way beyond the time we finish our years in nursery and school.
I deeply believe, and I hope you do too, that children are born with a creative energy and a sense of wonder for the world and as they grow, they need adults and children around them to nurture their inner world of confidence and courage. For indeed one day the children we are with now will be adults and it will be their turn to find their Play-full Heart and to seek the magic of children so that their own Bright Shadow and those of childhood can stand together once more and do the one thing that children want us to do: sing the song of play…
---
Greg Bottrill
A former Early Years Lead and Assistant Headteacher, Greg is passionate about education being an adventure not a pre-drawn route for children. Greg works internationally with settings supporting their own adventures into the world of play and the magic of children. He has written the books 'Can I Go And Play Now?' and 'School and the Magic of Children' and has a fantastic website where you can learn more about his ethos. He says 'Education should be a co-adventure with children…'