This tutorial will explain how to set Tapestry to show all, or selected staff members, only their key children (rather than all the children on your account). This first part is only relevant for setting changes to full account staff members and PIN only staff members, although the change does need to be made by a manager. If you are a manager and want to change this for yourself, then you can skip the first bit of this tutorial and go straight to the 'Edit Preferences' step.
If you want to know how to set up key children on your account you just need to follow this tutorial. 
Setting full staff and PIN only staff members to see their key children
To set this for non-managers, you need to start by going to "Control Panel".
You'll then need to select 'User Permissions' from the left-hand side menu.
You'll then need to scroll down to the 'Children' section, by default it will be set to show all children, to change this you'll need press the 'Edit' button.

To change this so all full and PIN-only members of staff can only see their key children you just need to choose the 'Not Permitted' option under where it says 'Default' and then press save.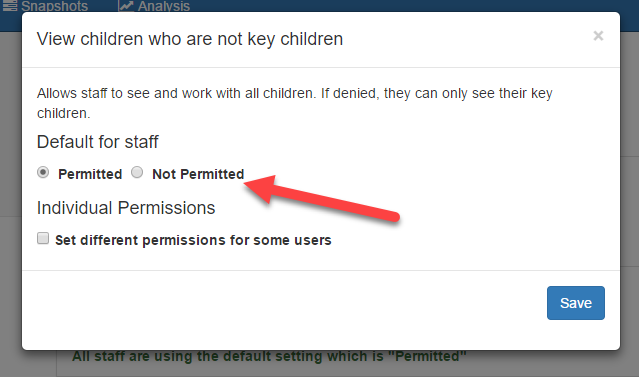 If you'd like to set it so that only some members of staff only see just their key children you will need tick the option 'set different permissions for some users'. This will present you with a list of all full and PIN-only members of staff on your account. Managers will not appear on the list as they are always permitted to perform any of the actions. From there you can select 'Not Permitted' for the members of staff you want to see only their key children and then press save.