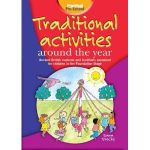 Review
A long-awaited collection of traditional British customs to share and celebrate with your children.
Including the well-known customs and traditions such as Pancake Day, Apple bobbing, and Christmas wreaths, this book is divided into months with each section telling a little about the customs associated with that time of year. For example, it is explained that in July, rural communities relaxed a little, in between the planting and harvesting. This is what gave rise to the fairs and fetes that we enjoy to this day. Each month has its own celebration, for example March's Daffodil day, June's Sunshine Party, and November's Queen Elizabeth Day. Between two and four activities are suggested for each month, such as corn decorations, druid storytelling and wheat field pictures for August. A suitable recipe is suggested for each month too, including Twelfth Night cake for January, Egg boats for April, Lammas Loaf for August, and December's Magical Mince pies!
A lovely book, full of useful ideas for EYFS practitioners.