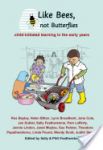 Review
Child-initiated learning features heavily in the EYFS and as a result, many practitioners are reviewing and adapting their practice. This book comprises chapters written by respected early years writers, including Ros Bayley, Helen Bilton, Jennie Lindon, Janet Moyles, and Sue Palmer.
This is a very timely publication, coming just as the EYFS has enshrined as almost holy the notion of child initiated learning. There have been lots of conversations on the Forum about whether and how to plan for children's learning in the scary place practitioners now find themselves since topics and themes are considered out of favour. So I was more than a little surprised on opening the book at the introduction to find our own beloved Forum mentioned on page one! The editors quoted a post from 2007 from Guest tabithawebb which you can read here which they feel articulated most eloquently the problem for practitioners who "feel themselves under pressure to provide something they are not sure how to do".
Several renowned early years experts and advisers have each written a chapter on a topic of their own choosing, and whilst they all stand alone as a kind of personal manifesto which outlines the author's ethos, they combine to produce a book which has a dual purpose for the reader, depending on their need. For the practitioner who is unsure where the differences between child-initiated and adult-led activities lie, there is ample definition of both terms, and explanation of what child-initiated learning looks like in practice.
There are lovely examples of real children following their own interests (some illustrated with photographs) which demonstrate the value of providing resources which provoke children's thinking and of giving children time and space to indulge their thirst for learning. There are bullet pointed lists of skills that practitioners need to develop and tactics they can employ to support children as they pursue these lines of inquiry without taking over the child's experience and turning it into an adult-led activity. In a chapter about the High/Scope approach, the author quotes a pedagogue who urges the reader to "surrender yourself to the moment [a child spontaneously becoming fascinated by something], take that moment and add to it, but resist the temptation to develop it into a topic".
For the reader who is interested in how research underpins practice, the authors explain the research that has shaped and informed their own personal theories and beliefs. So through careful and clearly worded explanations, we learn about how gender differences can affect play, how the links babies make between brain cells must be strengthened by practice and revisiting newly learned skills in order for them to be 'hard wired' into the brain, or how bilingual children are more flexible thinkers and are better information processors. Each chapter is followed by a list of references which should satisfy any student's desire for more information about a subject they find particularly interesting.
I would recommend this book because it all makes such good sense whatever level you are at on your own learning journey. There really is something for everyone: whether you need practical hints or seek theoretical knowledge. Whether you're interested in emergent writing, bilingualism or want to know how the EPPE research underpins much of the EYFS and why, you'll find it here and more besides. Jan Dubiel's chapter on assessment is a thoughtful exploration of what assessment is for and how it should be used. Sue Palmer urges us to get 'up close and personal' with the children we care for. Helen Bilton issues a rallying call to ditch the bikes and fill our outdoor spaces with materials which encourage children to think and solve problems and work together to achieve an aim.
The title is inspired by this quote from Anne Meade and sums it up rather nicely and is a good note on which to end, I think:-
"When observing young children... adults often think they are like butterflies, flitting from area to area. That may be true some of the time. However when integrated learning is taking place, another metaphor might be more appropriate; that of bees which gather nectar to integrate into something of significance".
There is little doubt in my mind that this book will help practitioners to stimulate and encourage child-initiated learning in their settings so that they can encourage the bee-like industry of children as they seek to make sense of their world, and develop the skills they need to become effective and life long learners!