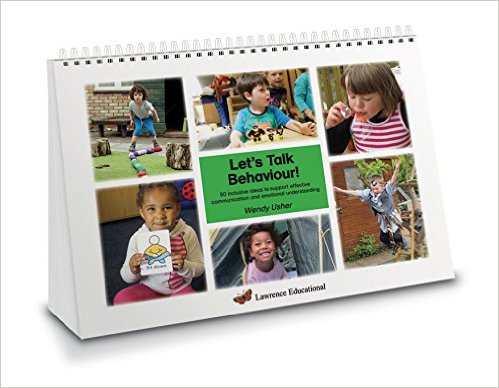 Summary
This A4, 65 page book is packed with practical ideas and suggestons to promote effective communication and positive behaviour in young children. Author, Wendy Usher, shares a range of activities to enjoy with children based on her 30 years' experience in this area. Make a positive difference in the classroom in areas such as listening skills, responding to kinaesthetic learners, dealing with anxieties about separation and attachment, recognising emotions and creating positive praise and ideas to calm children down.
In this easy to read book the author, Wendy Usher, asks us to think:
"What is the communication behind the behaviour?"  She emphasises throughout the book that we need to take a child-centred approach to children's behaviour rather than assuming that children are able to understand and comply with our adult expectations.
Usher explains that most children learn by seeing and doing yet when we are trying to manage unacceptable and/or inappropriate behaviour we often expect them to listen. The result of this expectation is that we give children auditory overload. They are often too caught up in their feelings and actions to listen to what we are saying to them. To be effective, and to help the child to learn and understand our expectations, we need to use our knowledge of children's learning styles and respond in the same way – by showing and demonstrating expected behaviours.
Usher includes observation templates for identifying individual children's learning styles which will help practitioners identify how best to support them. These can be used as part of a practitioner's self-evaluation regarding how they are managing a particular child. Staff are able to collate and compare their focus observations to identify patterns which will help them plan strategies for support
Each activity page gives 'Think' points for practitioners and provides examples to help them compare their experiences to a range of case studies. These are particularly useful as they enable staff to reflect on the success, or otherwise, of their behaviour management. They encourage staff to consider how they could improve next time for the benefit of the child in a dispassionate way.
There are plenty of practical ideas for whole-group behaviour management, such as using sound shakers to avoid staff having to shout loudly to attract attention (as this encourages children to do the same). Some of the activity ideas are well-tried and tested and will be part of common-practice for experienced practitioners. However, for inexperienced staff there are a wealth of ideas and suggestions that will help them gain their confidence and the confidence of their groups when managing behaviour.
Throughout the book, practitioners are reminded to share their thoughts and to draw on the observations of children made by their colleagues. I felt that this was a very important point and Usher makes it well. Managing behaviour is tricky and can be extremely wearing. It can make staff feel very isolated if there is a child in their group who consistently displays unwanted or inappropriate behaviour – staff need to know that their difficulties are not unique and that there are strategies that can help.
Sometimes staff struggle to involve children in the self-evaluation programme for the setting. Ofsted inspectors often report that the response to the question 'how do you find out the children's views' is "They just tell us". However, this doesn't empower quieter, less confident children to share their thoughts and ideas. 'Let's talk behaviour' includes some innovative methods of gauging children's opinions and helping them make their voice heard. These include using 'smiley and sad' buckets into which child can place an object to reflect their feelings about a particular activity or aspect of the day. This method of encouraging children's feedback is something that I am going to begin to use in my own setting.
I very much enjoyed reading this book – it reminded me of some activities and strategies I have used previously but had forgotten. It also reminded me of why it is so important to take into account children's learning styles when considering how best to manage unwanted/inappropriate behaviours. I would highly recommend this book to newly qualified practitioners who are managing groups of children on their own for the first time. The book would also give useful advice to staff thinking about how best to support more challenging individuals. It is definitely a book to include in any early years library.