Tapestry includes a SEND assessment framework which you may find more appropriate to use with  children who have been identified as having special educational needs and/or disabilities. The framework is based on the Development Matters document, but we have removed the age bands (calling them stages instead) and also added many other statements which could help in identifying those smaller steps of progress that children with SEND might demonstrate.
To switch on the SEND framework, go to your control panel > settings > assessments screen (1).
Tick the 'enable box' and if you wish, the 'display to relatives' box (2):

This is what you'll see when you create an observation for the child:

The seven areas of learning and the aspects within them, are the same as for the EYFS Development Matters assessment framework. However, once you have clicked the drop down arrow (1 above), you'll see there are a number of stages to choose from. These equate to the age-bands; for example stage 1 is 0-11 months, stage 2 is 8-20 months etc.
In this example, we are going to choose stage 2 in Making Relationships: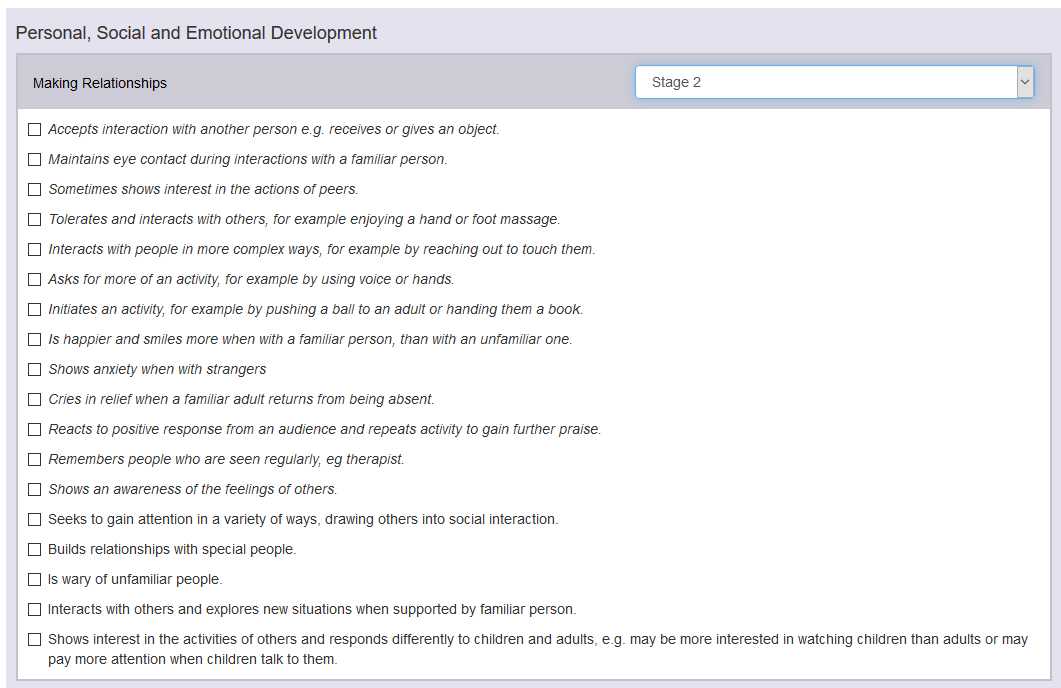 You'll see there are two sets of statements- the first set being in italics. These are the additional SEND statements. The remaining statements (not in italics) are the original Development Matters statements.
Although the advice on every page of the Development Matters document advises against using the statements as a ticklist, many settings supporting children with SEND find that they are better able to demonstrate small steps of progress by refining each statement. This is how you can perform your assessments within this SEND framework.
Select the required statement by ticking the box (1) and click the drop down arrow (2) to choose the refinement of emerging, developing and secure. Make sure you click 'save' at the bottom of your screen.
The child's journal will now have this entry: