To start using the Care Diary, go to your control panel > settings screen and click on
'Care Diary' (1)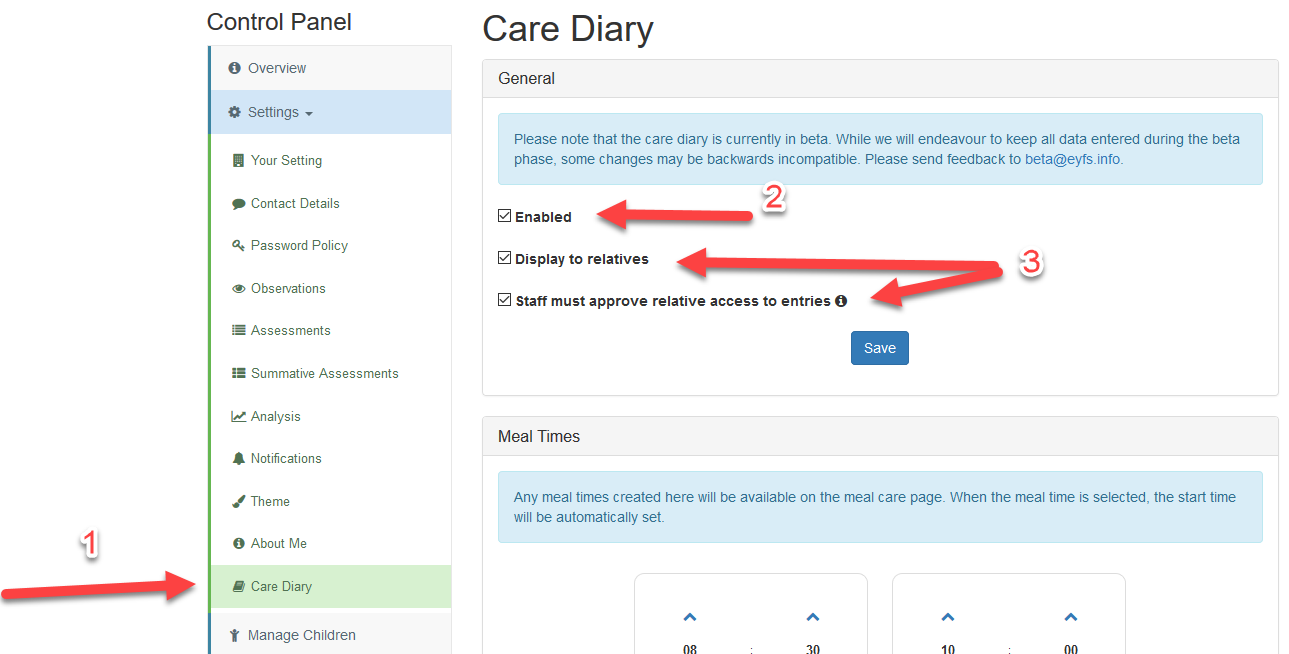 Tick the 'enabled' box (2). If you'd like relatives to be able to view the care diary, tick the 'display to relatives' box at (3). If you would like to control when relatives can access the care diary (you can release the diary at the end of each day, for example) tick the box marked 'Staff must approve relative access to entries' at (2).  Click the 'save' button.
You'll see that 'Care Diary' has appeared on the top menu bar (4), so click this and the screen you'll see is this one (obviously with your own children listed!):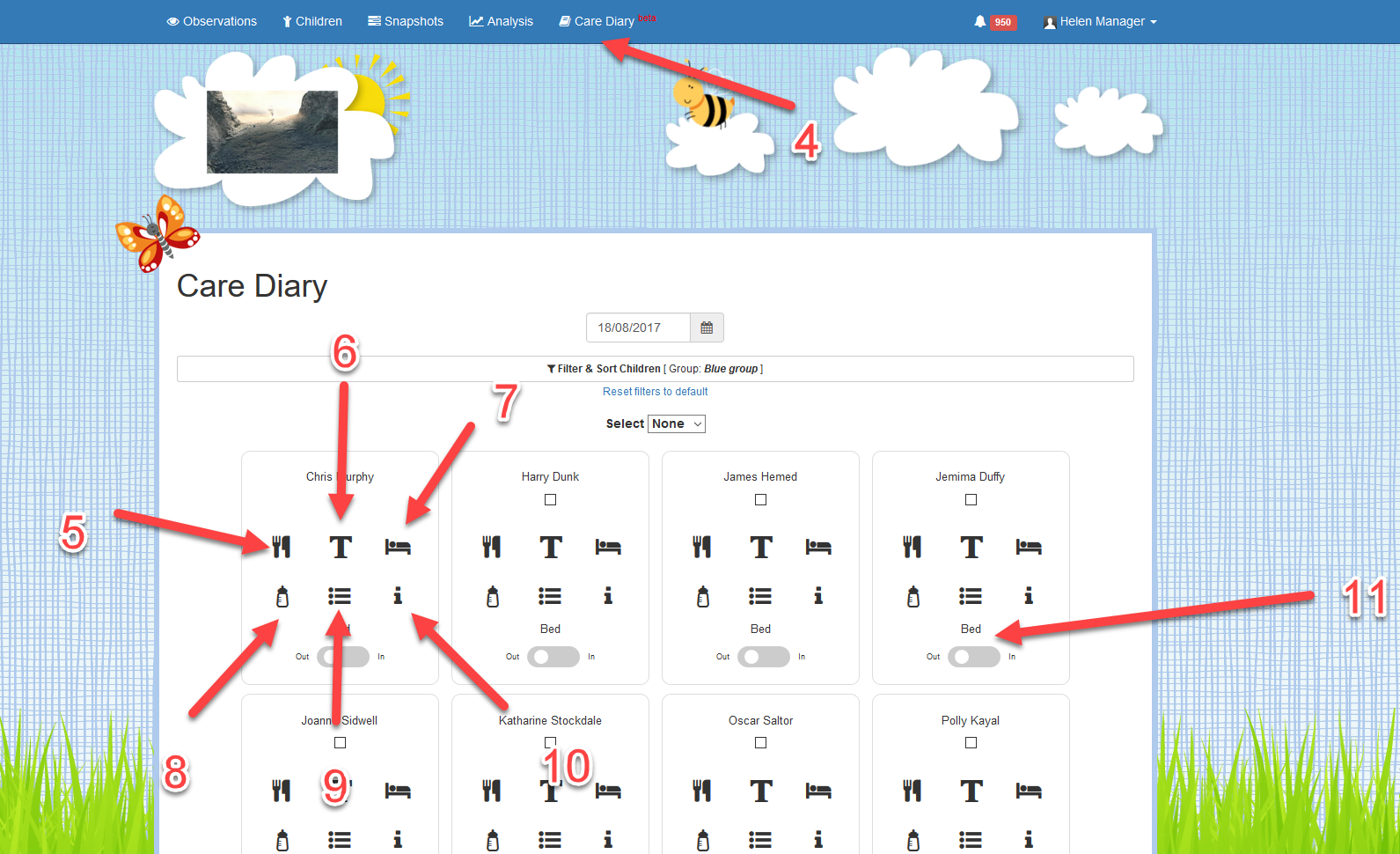 You will see 6 icons on each child's postcard where you can click through and record:
(5) Food and drinks
(6) Toileting and nappy change information
(7) Sleep
(8) Milk feeds
(9) Any other information, for example accidents, incidents, and things you might not want to record in the learning journal, for example how the child settled that day.
(10) shows you a summary of all the records you've made in the care diary for that day.
The toggle button at (11) allows you to quickly click to record in bed/cot or out of bed/cot.
You can view care diaries for earlier dates by changing the date on the calendar at the top of the screen. You'll also be able to add or amend any entries for previous dates for all categories apart from sleep checks.
Let's look at each of these screens in turn:
Recording food and drink- after clicking the knife and fork icon at (5) above.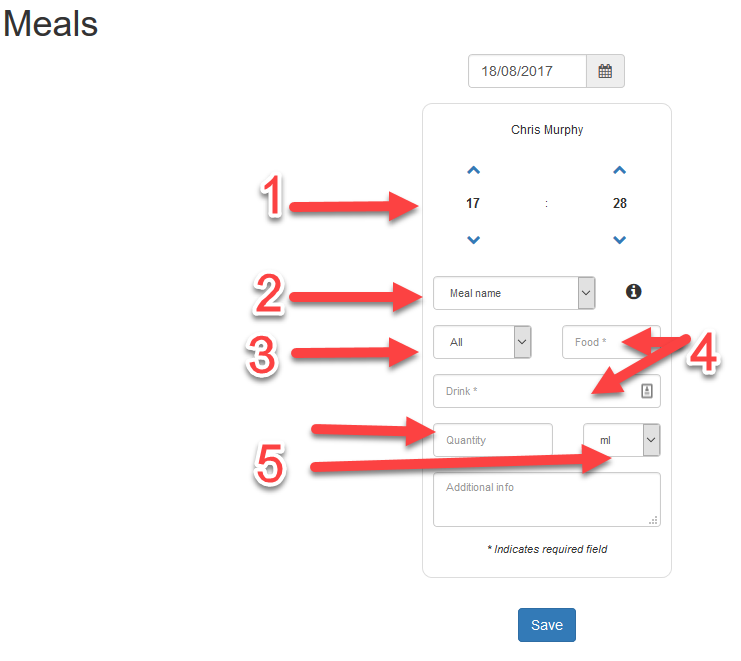 (1) Shows you the current time but you can change this if you wish.
(2) Type in a meal name or select from the drop down if you have any previously recorded (see also the tutorial on 'Pre-programming meals into the Care Diary' tutorial).
(3) Select whether the child ate all, most, some or none of the meal.
(4) Type in the food or select from the drop down if you have any recorded there from previous records.
(5) Select the quantity of drink consumed, if you wish (this is not required).
Click 'save'.
Recording nappy changes or toilet visits by clicking on (6) above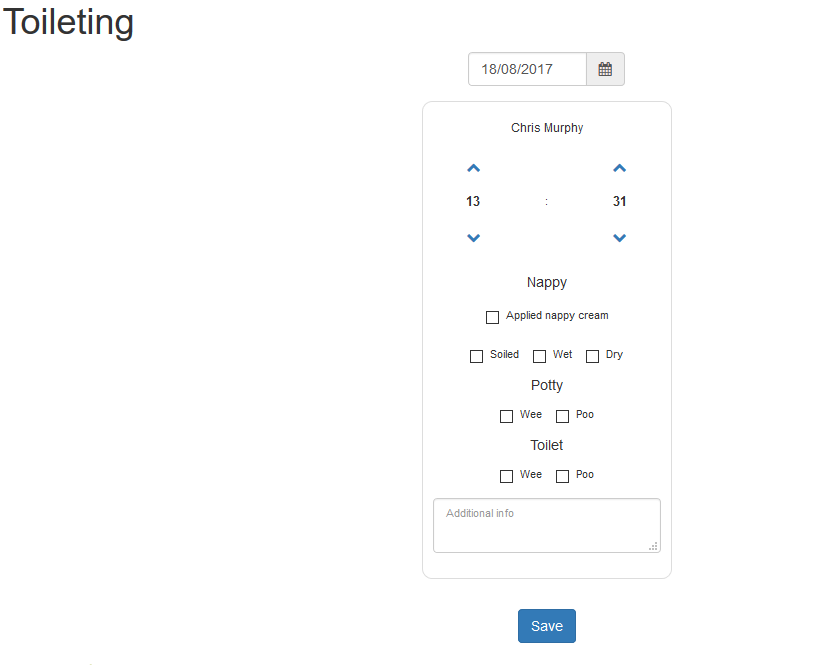 This screen allows you to select various options to record nappy changes or toilet visits, and whether nappy cream was applied. The additional info box allows you to record any notes.
Recording sleep by clicking (7) above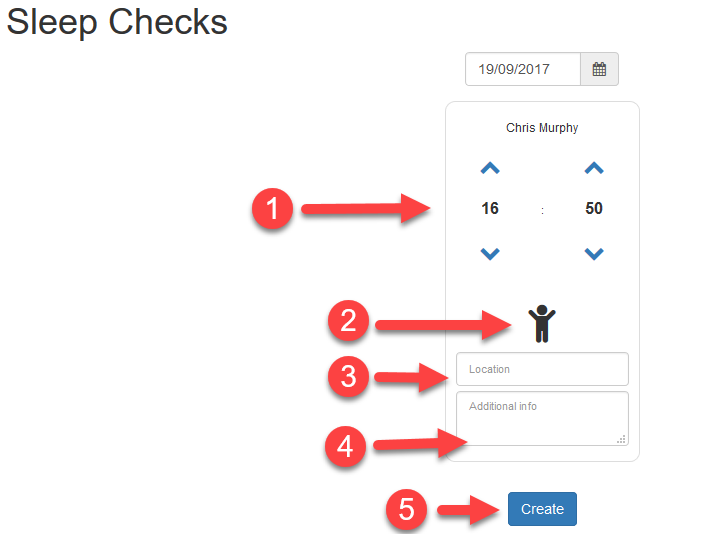 To record putting a child to bed, choose your time at (1) and click on the child icon at (2) and you'll see the child immediately put to bed! You can choose the location (for example, bed, cot, etc) at (3) and add any other information at (4). You can record a state such as awake, sleeping, unsettled, at (4) and then click 'create' at (5).
To record any regular checks you have made simply click on the bed icon (number 7 above) on the child's postcard, and either type in a state (1 below) or choose from the drop down menu (2):
The summary of your records will appear on the daily information screen at (1 below) on the child's postcard. All times will be automatically recorded to give an accurate record of when you've checked on the children.
A quick way to record putting a child to bed, or getting up from a sleep, is to use the toggle button at (2).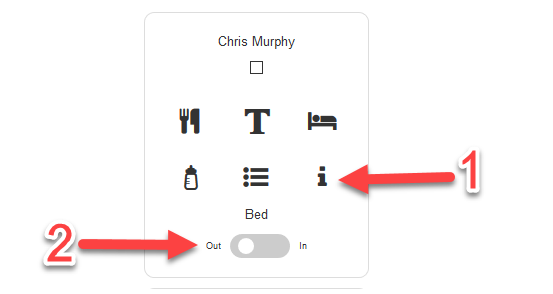 Recording milk feeds by clicking (8) above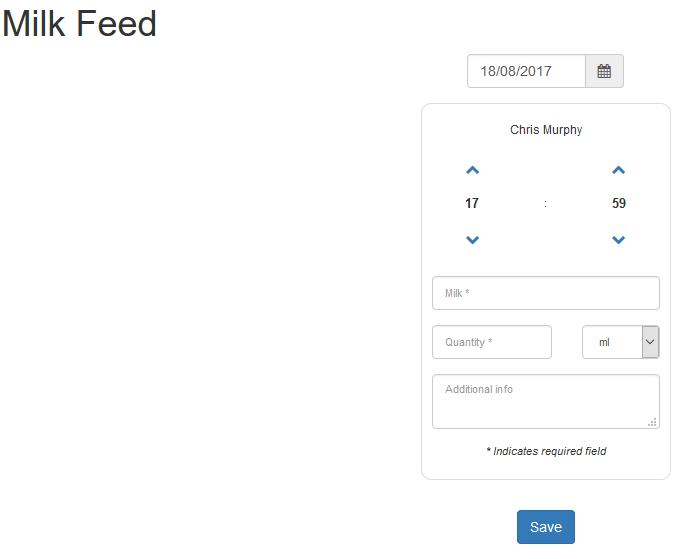 This screen works in exactly the same way as recording food and drink; simply select the type of milk, and quantity in ml or oz. Click 'save'.
Recording other information in the Care Diary
There may well be a time when you'd like to record information that you don't necessarily want to go into the learning journal; for example, how a child settled that morning. This is easily done by clicking on (9) above and using the General Log screen. In this example, I have chosen to record 'settling' at (1) and some information about how the child settled.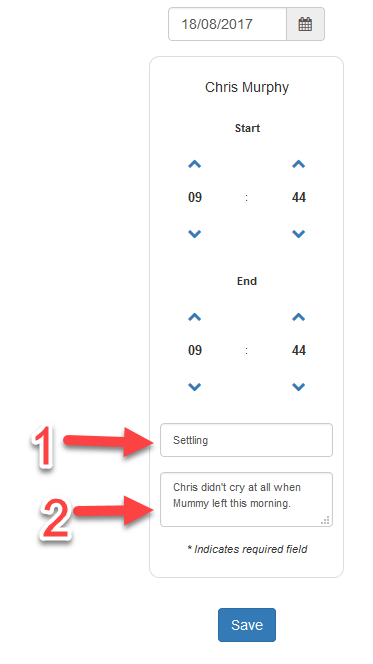 You can also use this screen to record accidents and incidents:
Making recordings for multiple children at the same time
From the care diary main screen, tick the boxes of the children you want to record (1) and then choose from the icons in box (2). We'll look at recording nappy changes for our 3 children here.
The main control box you'll see is the one you fill in: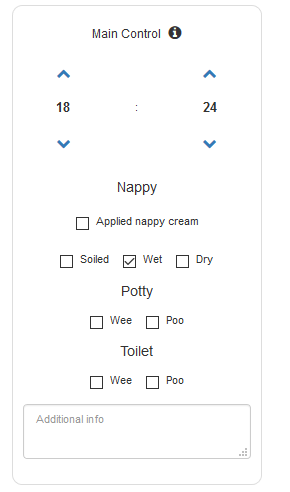 All the information you provide here will be recorded for each of the children you've selected. You can make additions or alterations for each of the children; for example, I have added here that one child had nappy cream applied (1) and that another child's nappy was dry (2). When you've finished, don't forget to click 'save'.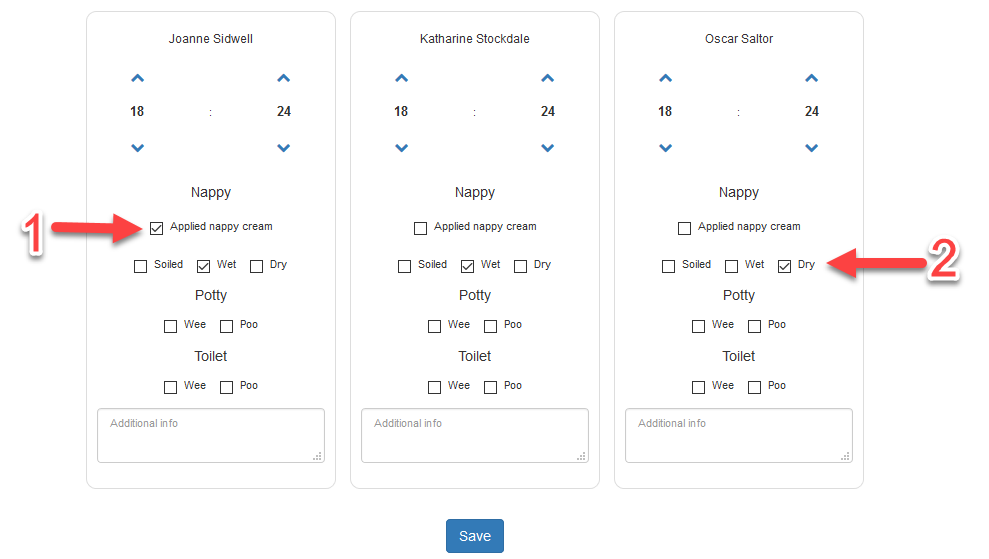 Viewing the summary information screen- the 'i' icon
Click the 'i' icon for any child on the care diary screen and you'll see all the recordings you have made for that child on that day: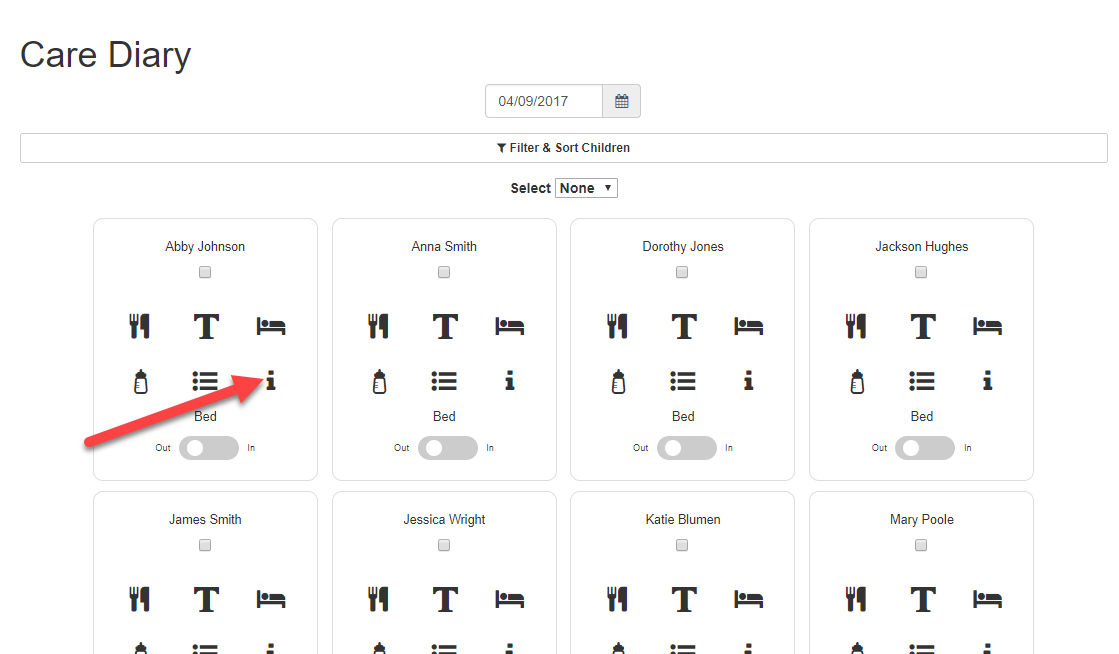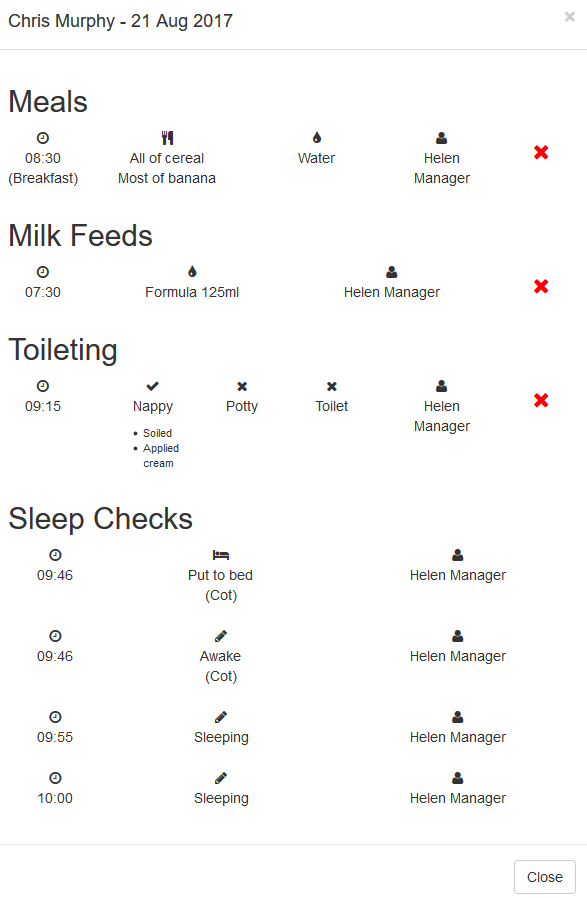 If you would like to see the care diary entries for earlier dates, just click on the calendar (1) and select your date.