In order to access the Montessori curriculum, you will need to firstly enable the assessment picker from your Tapestry control panel.
Then you simply begin by composing an observation and the Montessori curriculum will appear on the observation screen.
The Curriculum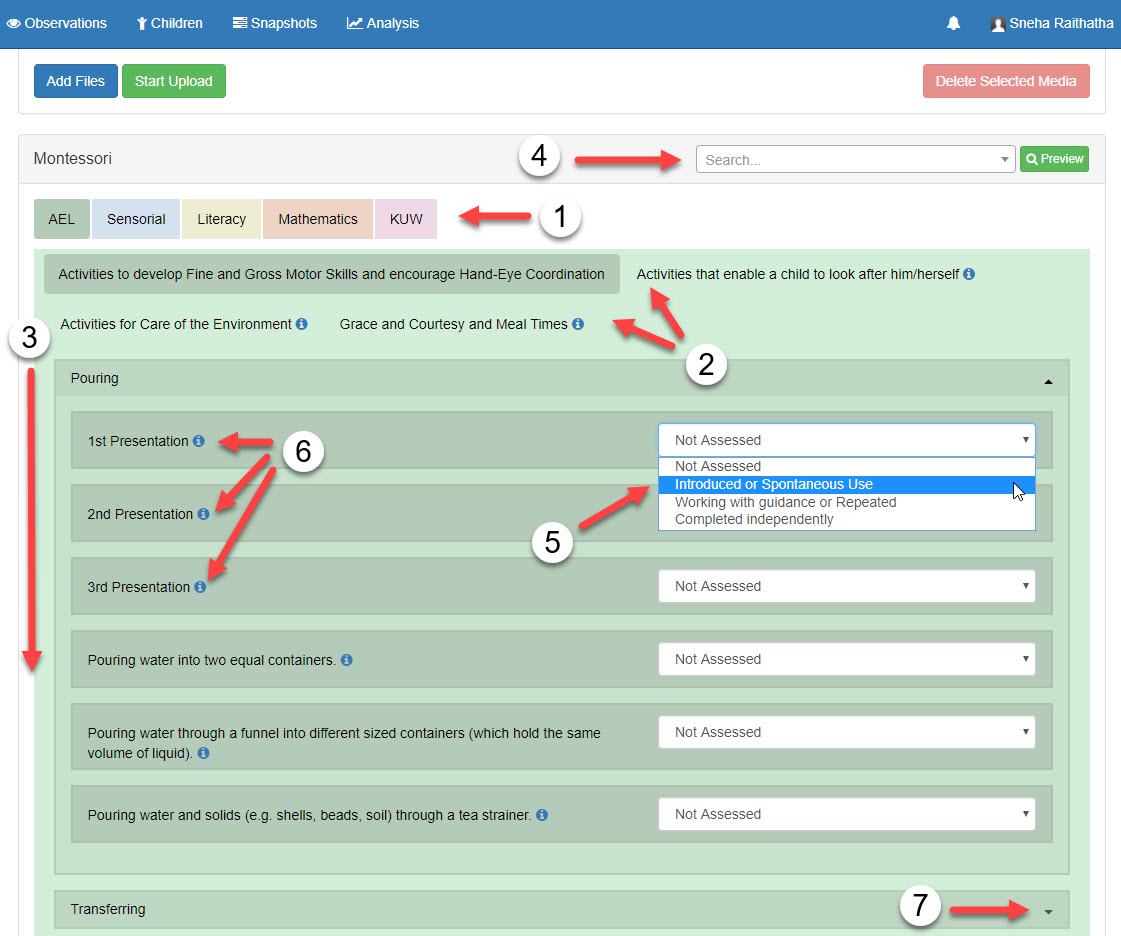 1. The curriculum is broken down by 5 areas of learning as follows;
Practical Life/AEL
Sensorial
Literacy
Mathematics
Cultural/KUW
2. These areas are subdivided into categories within each area.
3. The categories then list activities pertaining to that category.
4. There is also a very helpful search box included for you to be able to simply type in keywords to locate a specific activity, instead of searching through the lists.
You also have the ability to;
5. Add refinements
6. View descriptors 

7. If you see a down arrow on the right hand side of the activity title, this indicates that the activity can be collapsed further for more options.
Variants

1. A lot of the Montessori activities involve a Three-Period Lesson (3PL) or learning new terminology. For these activities you will have the ability to choose which specific variants (that appear as tick boxes) you have introduced to the child during the activity.

2. Other activities may have a drop down list of variants as only one is introduced at one time.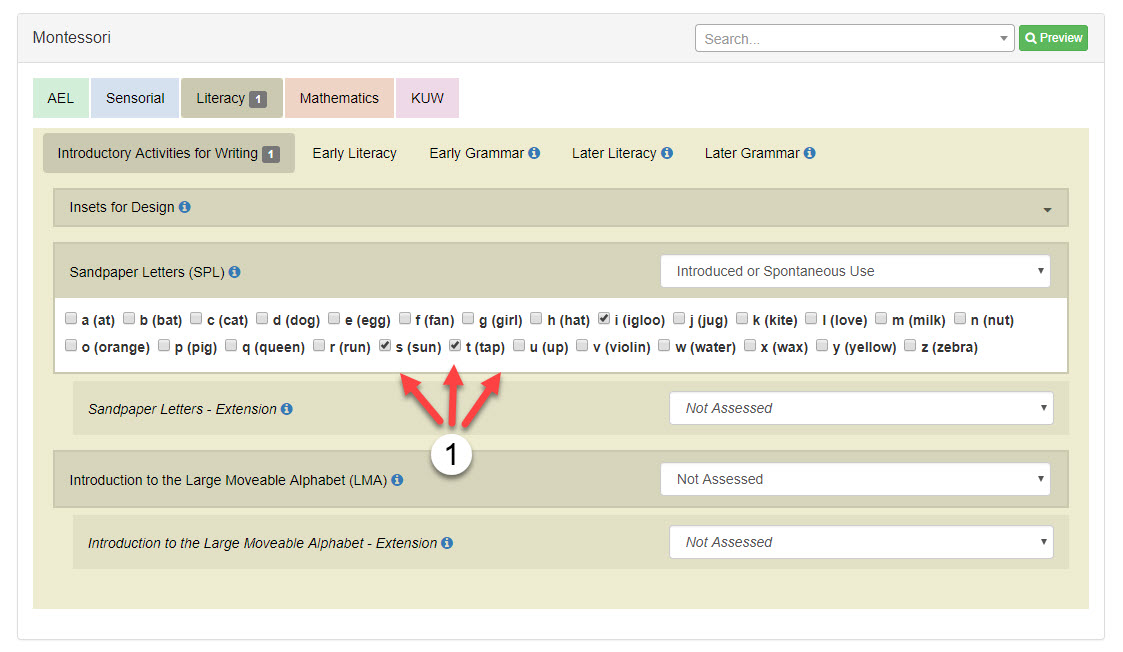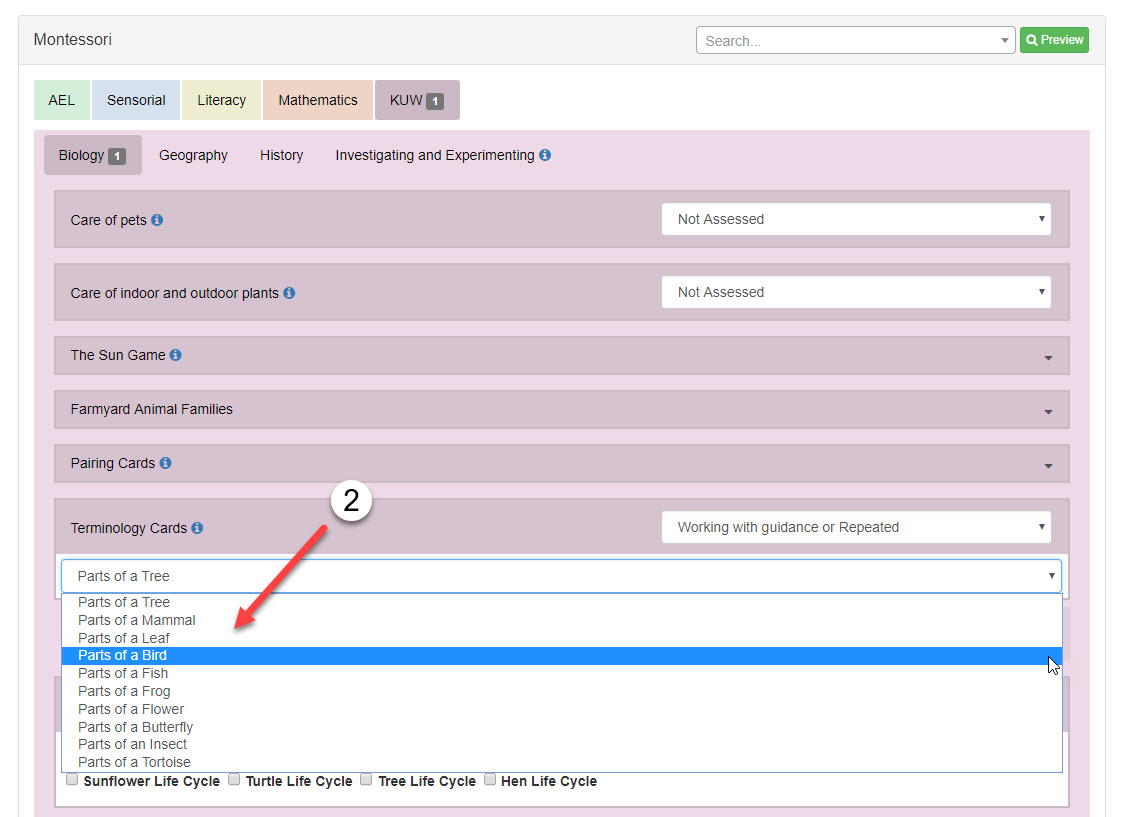 Descriptors

1. Each activity also provides a thorough descriptor to further elaborate on the activity which can be found by clicking on the 

 icon next to the title of each activity.
2. The descriptor enables more efficient use of practitioner time when writing an observation, as they can simply add notes of what they observe the child doing, rather than spending time explaining the Montessori activity.

The option of whether or not to include this descriptor in the full observation is at your discretion and can be changed via your control panel on Tapestry (see below).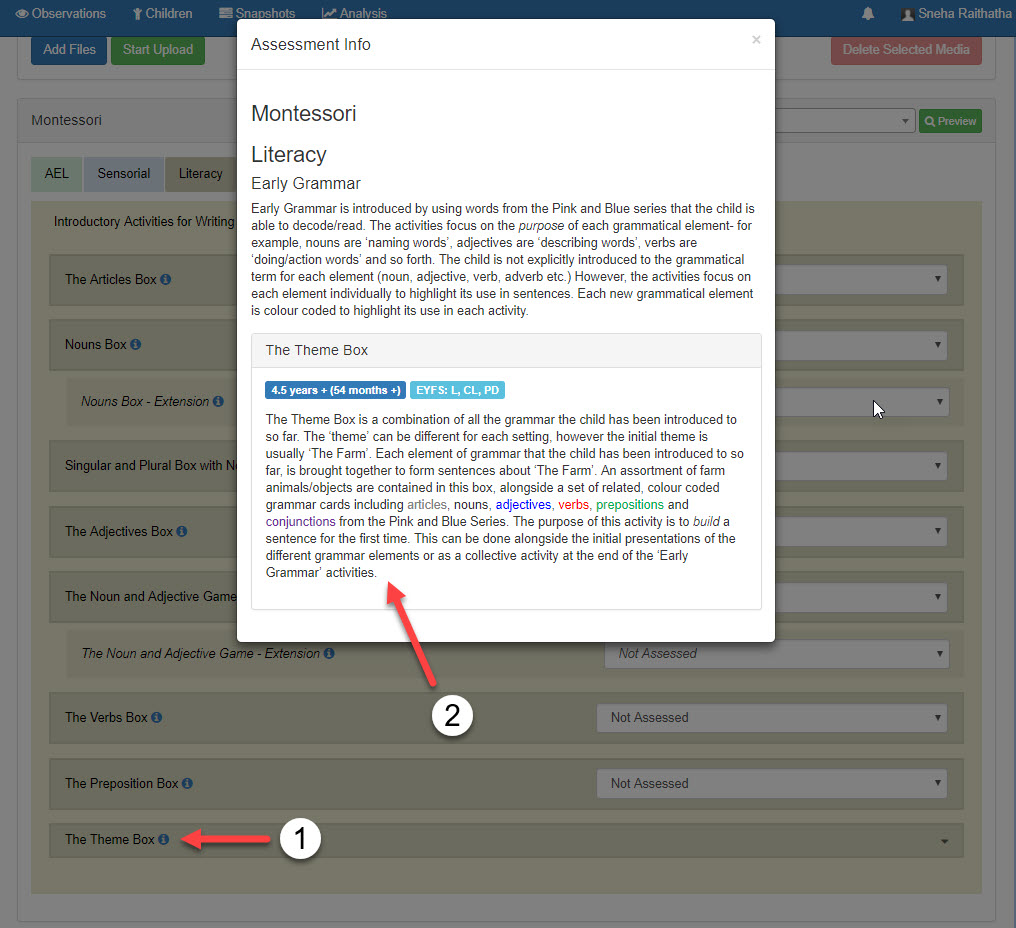 Refinements 

1. The activities also include the option to add 'refinements' which can be renamed according to preference (via the assessment picker screen in the control panel) or alternatively you can use the Tapestry defaults as follows;

Introduced or Spontaneous Use
Working with guidance or Repeated
Completed independently
2. On this screen you also be able to select the option to 'Show descriptors when viewing obs'. If selected, the full descriptors of activities will appear in observations of children when complete.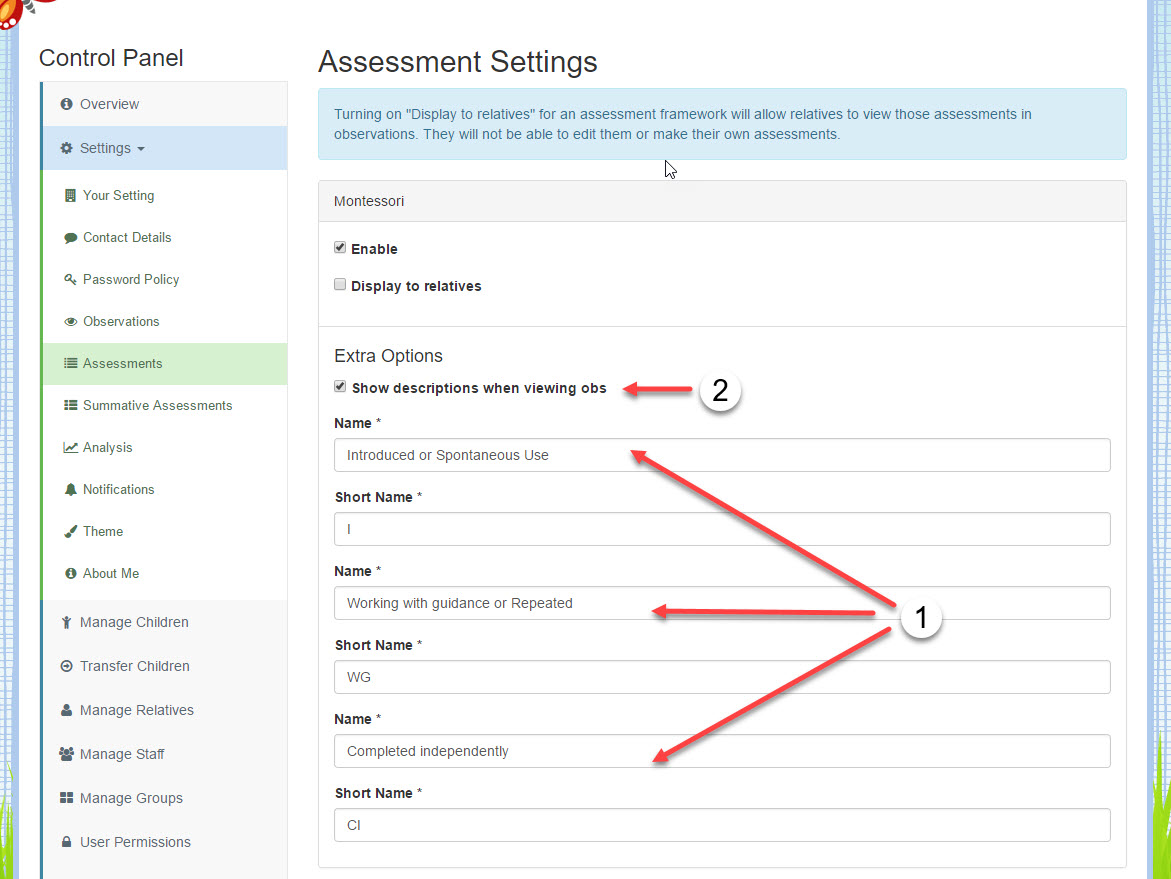 Selecting Refinements
1. The refinements will enable selected analysis and snapshot screens (coming soon!) on Tapestry to view children's progress and overviews of individual and group progress across the Montessori areas of learning.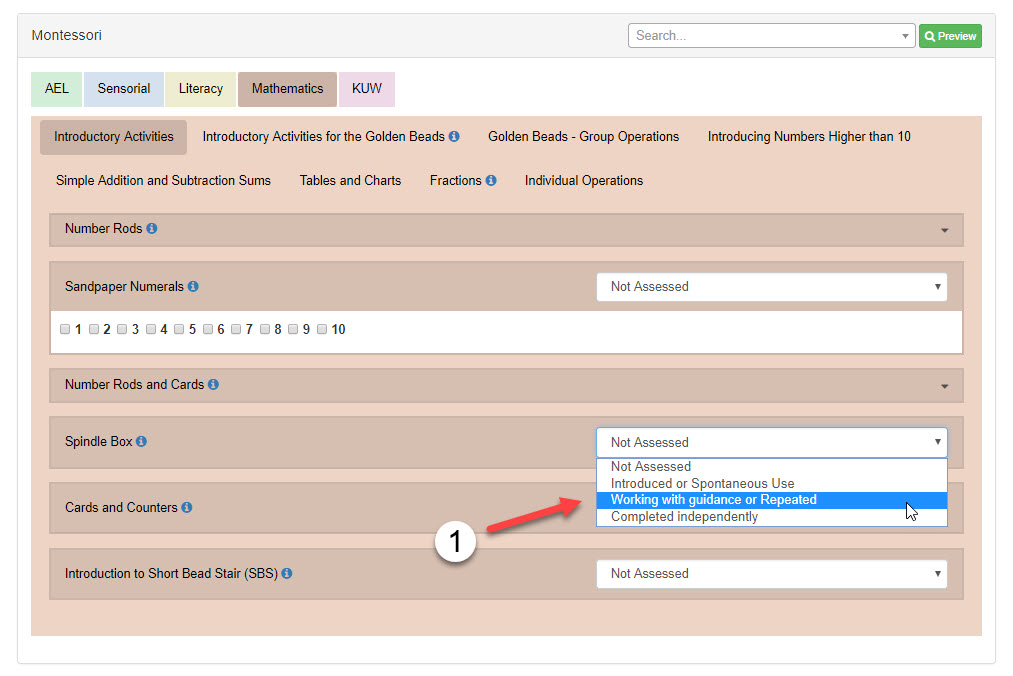 Age Band and EYFS Suggestions
There are also 1. Age band and 2. EYFS area link suggestions for the Montessori activities included in the descriptors of the activity for practitioner guidance. These age band suggestions/EYFS links will not appear in the final observation that is viewable by relatives.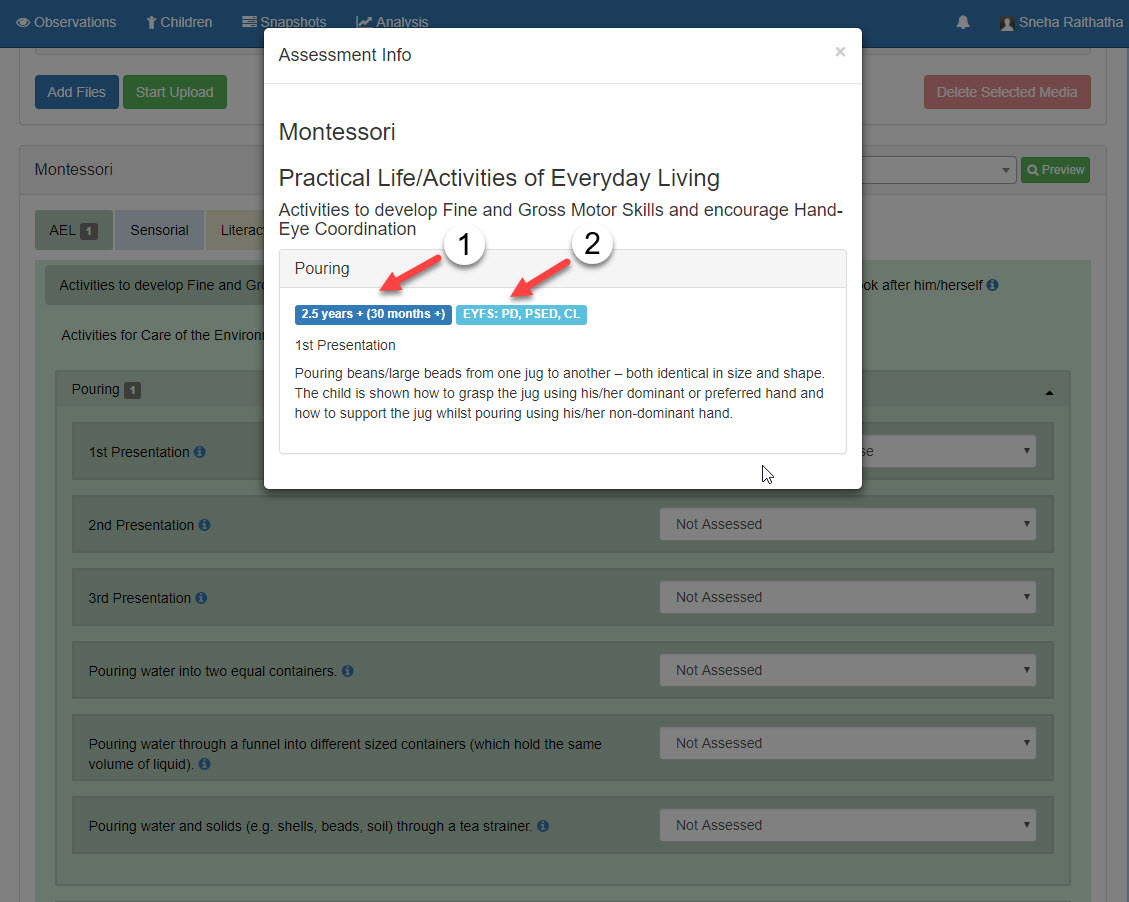 Linking EYFS Development Matters Statements to Montessori 
You now have the ability to directly link each Montessori activity to related statements from the EYFS. The statements have been selected according to the recommended age for the activity and/or which statements we feel best suited the activity.
We do also recommend that you select your own age bands and refinements as required. Each child may achieve something different from the activity and carry it out at a different age than the pre-selected age band and statement (in which case the statement may not be applicable at all). This may also result in the child appearing above or below their age related expectations.
You can find more information about how to link Montessori observations directly to the EYFS DM Statements at this tutorial. 
Learning Journal
You also have the option to include specific Montessori observations in the child's Learning Journal when exporting all observations as a PDF.
These can be selected by 1. Area and/or further refined by 2. Sub-Area.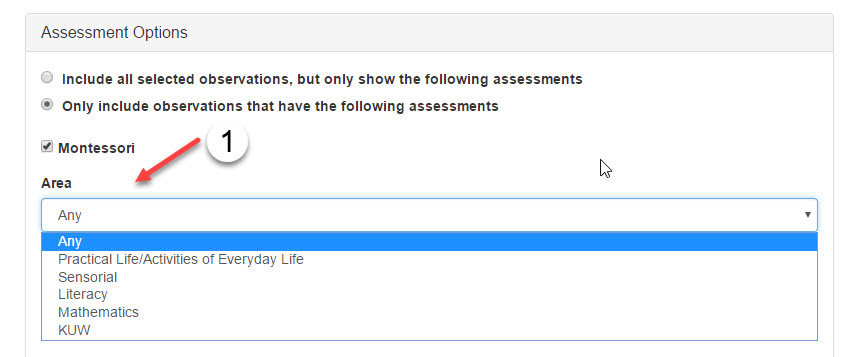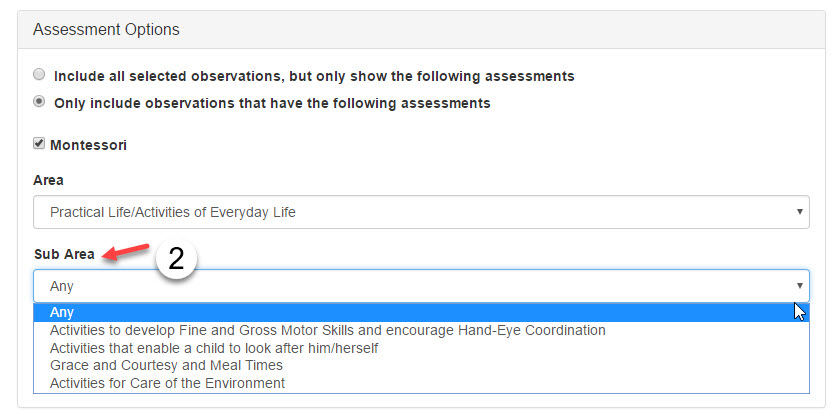 Other features coming soon...

1. Next Activities 
The 'Next Activities' that are suggested for each child have been carefully selected, by cross referencing all activities across the Montessori areas of learning. They have been chosen accordingly and in relation to the skills that the child will have/will need to acquire before carrying out the next activity/a more complex or related activity.
2. Analysis and Snapshot Screens.
Montessori refinements will be calculated for separate analysis and snapshot screens to view the progress of an individual child/group and to view the thoroughness of activities carried out across all areas. The Snapshot Screen (similar to the Development Matters Statements screen) will also be included to view which and/or how many activities the individual child/children have carried out to date. 
Please feel free to send in any support requests to ofni.sfye@ecivres.remotsuc if you require any assistance during your testing.