Hi Weavers!
This tutorial will take you through the setup process for the KS1 and 2 frameworks on Tapestry. They can be adapted to suit your own school's requirements, so it's important that you have a quick read through this first to make sure they work for you. 
It's important to know that the analysis sections haven't been included yet. We will be adding those and you can find out more information about what we are proposing in the 'Plans for Analysis' tutorial in the main tutorials list. 
Okay, so onto what we're here for!

The first thing that it is really important you do is make sure the framework is activated and labelled to your preference. With that in mind, please go to your control panel (1), Settings (2), then Assessments (3). 
There, keep scrolling down until you get to the framework titled Key Stage. You will be able to choose to enable whichever year groups you are testing this out with. For those that you do tick to enable, you will see the option to display it to relatives appear.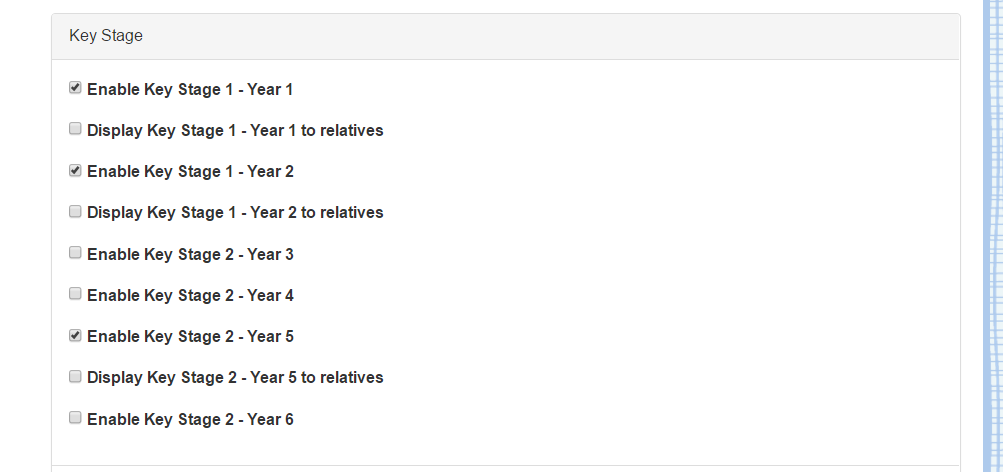 For each statement (or group of statements) you select for a child, you can assess their achievement using our tier system. There are 5 levels to that with 1 being the lowest level and 5 being the highest level.

How you want to set these in qualitative terms though is up to you. We're envisaging the standard way being 3 for the national age related expectations (ARE), 2 for a little below that and 1 for children who need extra help, then 4 for a little above national average, and 5 for your gifted and talented children. However, when setting yours up you might want to consider how children at your school do in comparison to the national 'expectation' bearing in mind that children with a scaled score of 100+ at the end of KS1 have reached the expected standard. 
So, if you look back at the last couple of years results for your KS1 SATs, what proportion of children achieved the 100+ scaled score? If most did with a roughly equal number of children above or below the 100+ score then you should set your national expectation tier as Tier 3. This gives you Tiers 1 and 2 to show progress up to the expected standard and Tiers 4 and 5 to show progress beyond the expected standard.
If few children achieved the 100+ scaled score and the majority achieved below this you should set your national expectation tier as Tier 4, this will give you Tiers 1,2 and 3 to show progress and impact of intervention up to the national expectation.
If most children achieved the 100+ scaled score, with very few below if you should set your national expectation as Tier 2, this will give your Tiers 3,4 and 5 to show progress beyond the national expectation.
I'm going to leave the names of my tiers as 1, 2, 3, 4, and 5 for this tutorial, but you can name them whatever works best for you, you may already have terminology that your school is familiar with (although feel free to leave them as tiers 1 to 5 too!). Please do remember that they need to stay in their hierarchy though - if you rename tier 2 to 'mastery' and tier 4 to 'developing', your results will be very confusing!

You will also need to give each tier a short version for when it appears in charts and a colour code, otherwise the full name might be cut off. This shortened version needs to be a maximum of 4 letters. 

By default, you will have 5 tiers set up on your account. At the beginning of each academic year you can edit the number of tiers if you need to but you will need a minimum of 3 tiers. It is important to set up your tiers up at the beginning of the academic year as once you have made an assessment for the year you will not be able to remove any tiers. Also, if you add any tiers during the year you might need to adjust your previous made assessment scores to reflect this change.

You set the tiers in the same section as you where you just turned on the framework, just scroll down a little bit. You can also choose a colour for each tier which will help you see 'at a glance', where your children are achieving.
That's all you need to do for now in terms of setting the framework up, but you will also need to add some groups to make assessing the children easier.
Some groups are set up automatically by Tapestry based on the information you put in when adding the children (e.g. EAL, sex, autumn born, PP), but ability groups will need to be added manually from within the Manage Groups section of the control panel (1). Simply click on the + Add Group button (2) to create a new one. Each child can be in as many groups as you like so if you also sort the children into the groups they are set in for teaching it will make your formative assessment data much easier to input. So, an imaginary child 'Lisa' can be in these different groups Girls/PP/Top English group/ Middle maths group/ Middle Science group.

That is all you need to do from within the control panel so now let's move onto setting what we call the 'Maintained Achievement Point' or MAP for short. This is the tier that you will assign to each child for each subject at the beginning of the academic year and will be where you're expecting them to be in each subject at the end of the year. For children starting in year 1, this tier will be based on their EYFSP tier, and as you go up through the years, the MAP for the child will be based on their end of year tier for the academic year they have just finished.

To fill that in you will need to go to the Snapshots section (1), then scroll right down to the very bottom until you find the appropriate Key Stage and year group, then in the 'Maintained Achievement Point' section, click on 'Individual View'.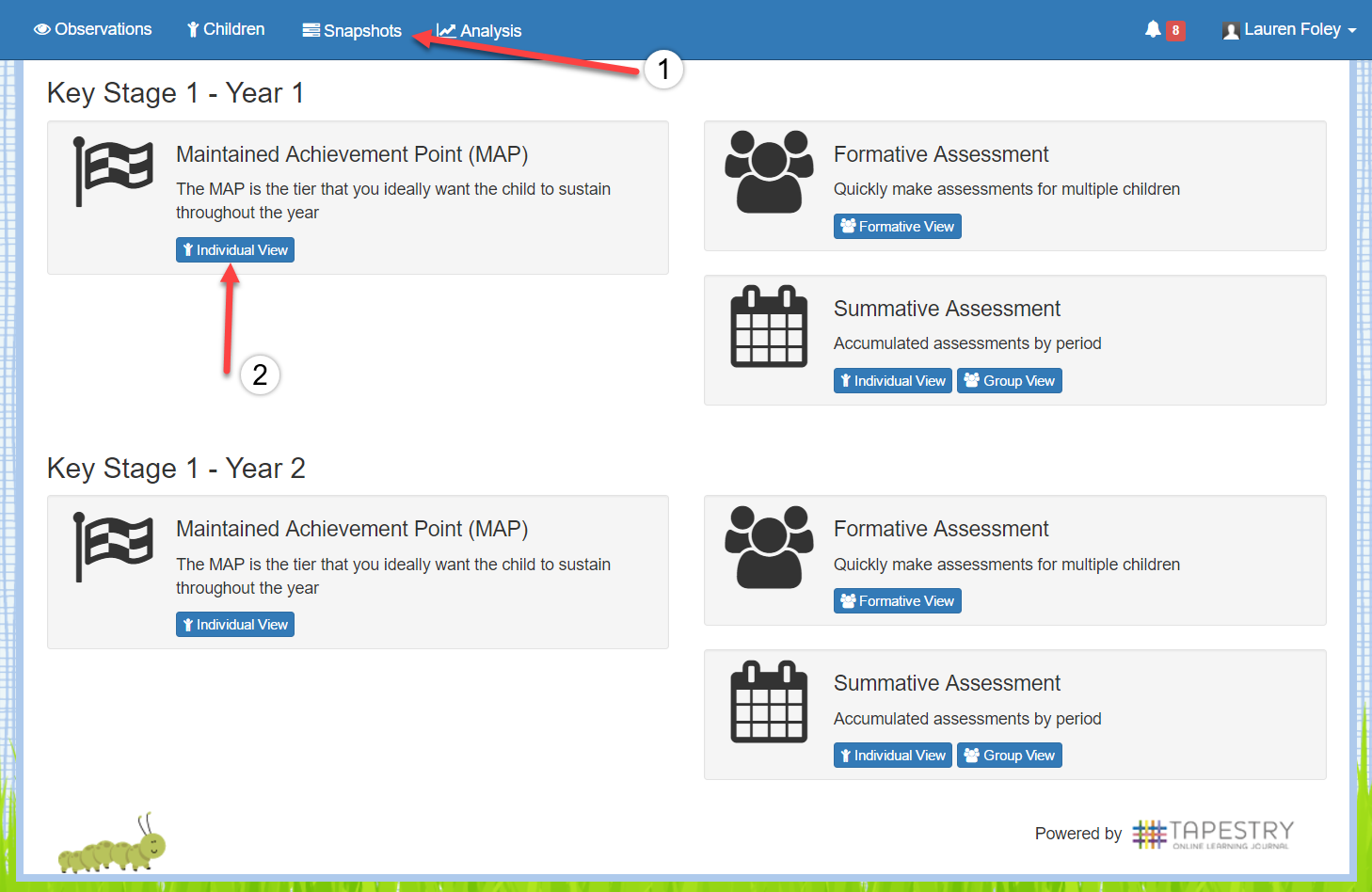 On that page, you will need to select a child (1) and make sure the correct year is selected (2). You will be able to see just below that a key to remind you what each colour means (3).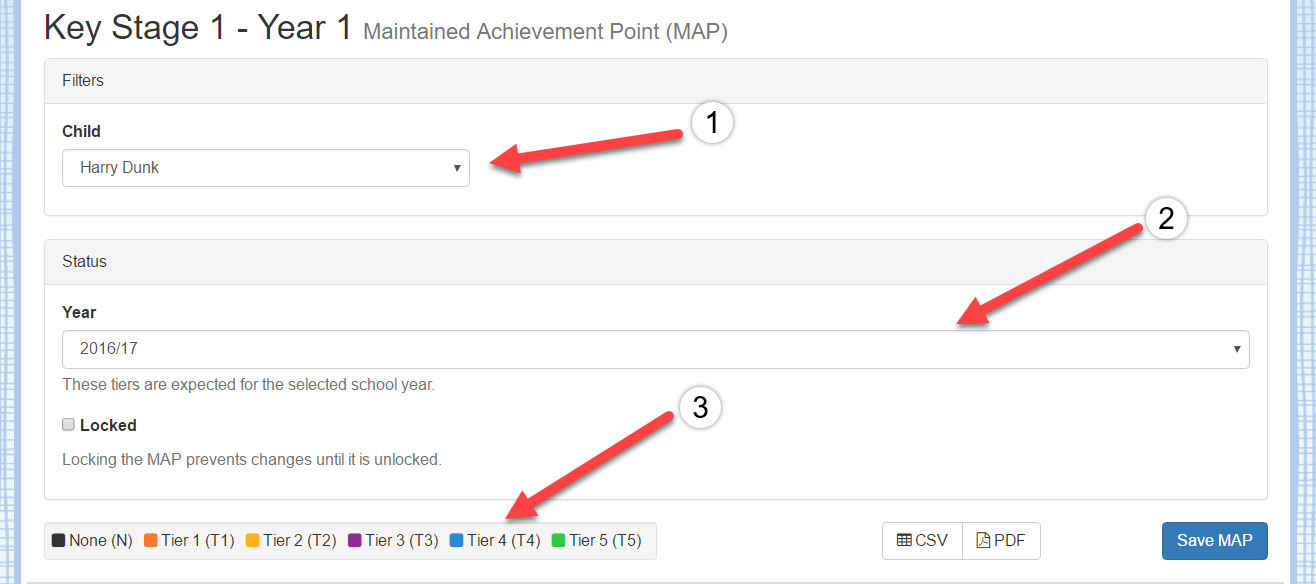 Below that you will see a full chart with the KS and year subject areas and aspects (1). Next to that, if you have EYFSP data for that child on Tapestry, you will see the scores that were assigned there (2) and to begin with a column with what will be the child's MAP but that currently says 'none' (3).
You should then use the EYFSP scores and/or your own professional knowledge to assign their MAP for each aspect.

We're expecting that each child will generally be placed in the same, or one of two tiers for all aspects. If this is the case for the child you are looking at, rather than going through and assigning the same tier 26 times, you can just select the tier that you know you'll assign the most from the 'Select Default Tier' drop down (1) and then press 'Save Map' (2).

For the child I'm demonstrating this with, I'm going to say that he is Tier 3 for most things but Tier 4 for English, so I have selected Tier 3 in the Select Default Tier box.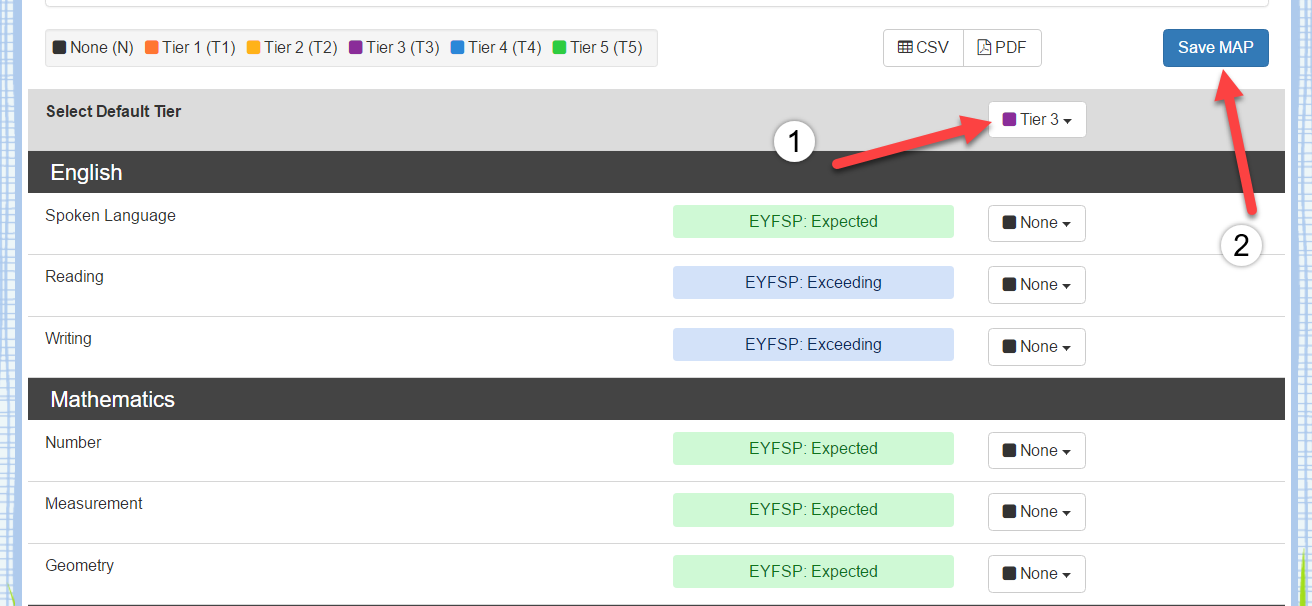 After saving it you will be asked whether you would like to lock it. If you do this you will essentially be saying that you're happy with the scores there and you do not want to change them. If you do want to go back at any point you can unlock this. Any changes you make though will be recorded in the Events section of the control panel. This will help senior staff see how effectively children's MAPs are being set.
I am going to save without locking it for now, so I can make the tier changes to the English aspects.

When the screen reloads, all the tiers will be set to the selected tier, but they can be overridden just by clicking on the appropriate one and choosing the correct tier from the drop-down.

Once you are happy with all the selected tiers, save and lock it.

The drop-down boxes will then disappear. You can export the page to CSV or PDF file by clicking on the links (1).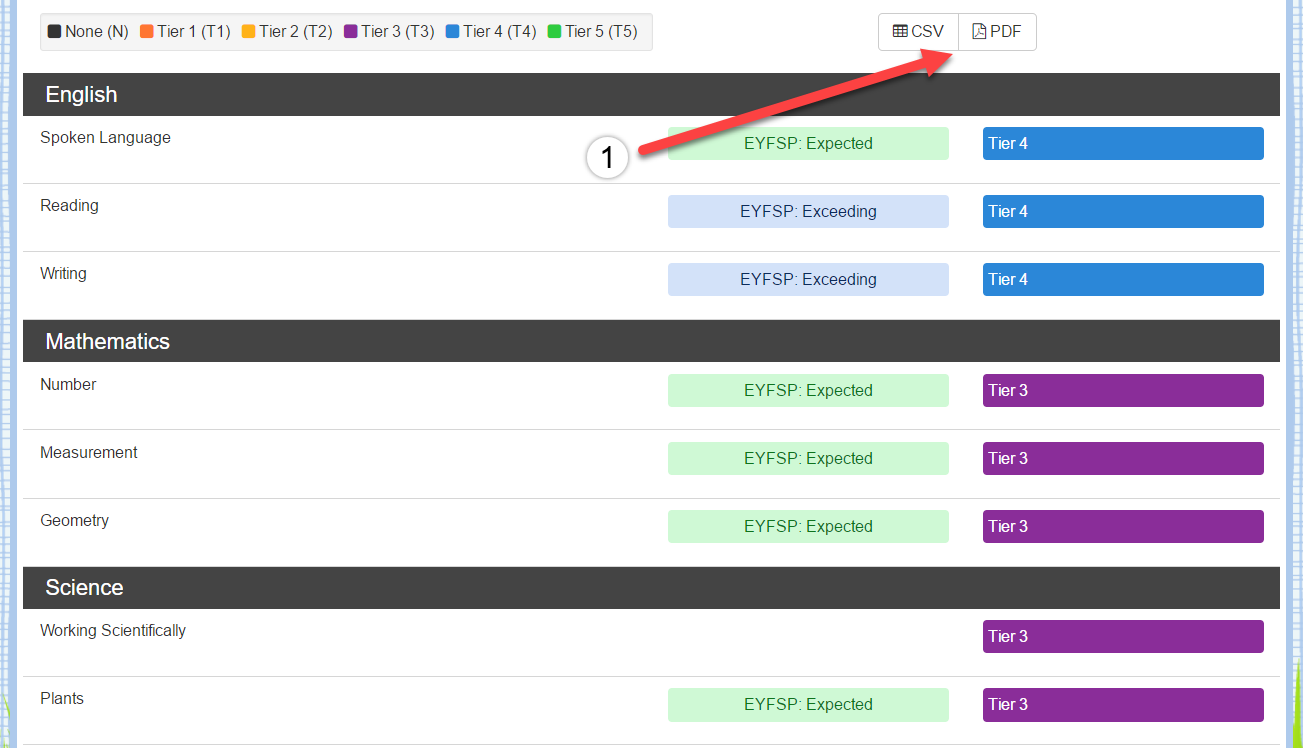 You will see a child's MAP appear both when making assessments through the formative assessment screens, and when you are checking a child or group's summative assessments, so you can always see how they are working compared to their MAP. This is so that you can plan interventions for children who are over or under achieving according to expectations.