Once you have added a relative to Tapestry you are then able to set permissions and notifications for the relative accounts. You have a choice whether you set up permissions to apply to all relatives, or to set up different permissions for individual relatives.
To add relatives to your Tapestry account you can use the links below:
Adding Relatives via a CSV file
To then set up permissions you will need to go to the Control Panel by clicking on your name in the top right hand corner and selecting 'Control Panel' from the drop-down menu.
You'll then need to select 'User Permissions' from the left-hand side menu.
Click on the 'Relatives' tab at the top of the page.
To change a permission you will need to click on the 'Edit' button at the end of the row.

Once you have clicked on the edit button you will get a pop-up box from which you can choose the default option, permitted or not permitted (1). Then if you want to allow some users different permissions you just need to tick the 'set different permissions for some users' box (2). You will then see a list of full and PIN only member of staff. Managers will not appear on the list as they are always permitted to perform any of the actions. You can then select whether you want to leave the staff member as having the default option or whether you would like to specifically permit or not permit them to carry out that action (3). Once you are done you just need to click on the 'save' button at the bottom.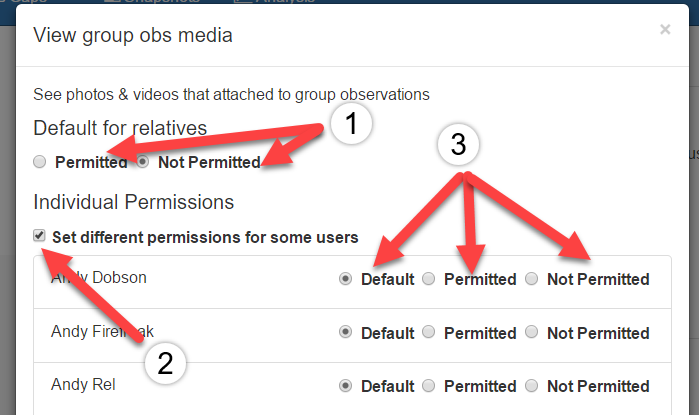 Below you can see what the relatives permissions looks like, I'll go through each section and what each permission does.
Observation Permissions
Relatives are allowed access to their child's journal as soon they are showing up as active in your 'Manage Relatives' section and are attached to their child. They can set a password though an activation or password reset link, or you might have set them a password yourself and passed that along to them.
Relatives can only see published observations made by staff members but they will also be able to see all observations made by other relatives who are linked to the same child as them, regardless of the observation status.
Presuming they are attached to a child, they will always be able to make an observation for that child (although they won't ever be able to assess it).
Approve own observations
If not permitted any observations parents add to their children's journals will need staff reviewing before they are added to journal - however relatives will be able to see all observations made by other relatives linked to the same child's account, regardless of whether the observation has been added to journal by a staff member.
Comment on visible observations
If not permitted the relative will not be able to comment on any of the observations they are able to see.
Comment on group observations
When a relative is viewing an observation with multiple children, they will not be able to reply. Changing this won't alter replies that relatives have already been made — they will remain visible.
Download media
If permitted, relatives will see the option to download photos and videos from observations.
View group obs media
By default, this option is disabled, so when a relative is viewing an observation with multiple children all of the photos and videos in the observation are hidden. You might want to keep this as not permitted if you have protected children in your setting, or if some relatives aren't happy about their children appearing in the journals of other children. Please note however, that if you split the group observation so one child is attached to it, or if only one child was attached to it to begin with, but several children are in the pictures, the pictures will still be visible.
View 'Additional Information'
If selected, relatives will be able to see the Additional Information section when viewing observations.
Children Permissions
View Next Steps & Next Observations
If selected, next obs and next steps are available to relatives.
Notifications Permissions
Allow notifications to be sent to relatives.
If this is not permitted relatives will not receive any notifications. That means no notification emails & no notifications from the icon at the top of the page.
Assessment settings
You can also change whether or not relatives are able to view any assessments related to their child's observations by doing the following;
1. Accessing your Control panel
2. Click on the 'Settings' tab
3. Click on the 'Assessments' tab
4. On this page you see all your enabled Assessment frameworks and you can allow relatives to see the assessments on their children's observations by ticking the box next to 'Display to relatives' for each assessment framework.
Please ensure you save any changes you make.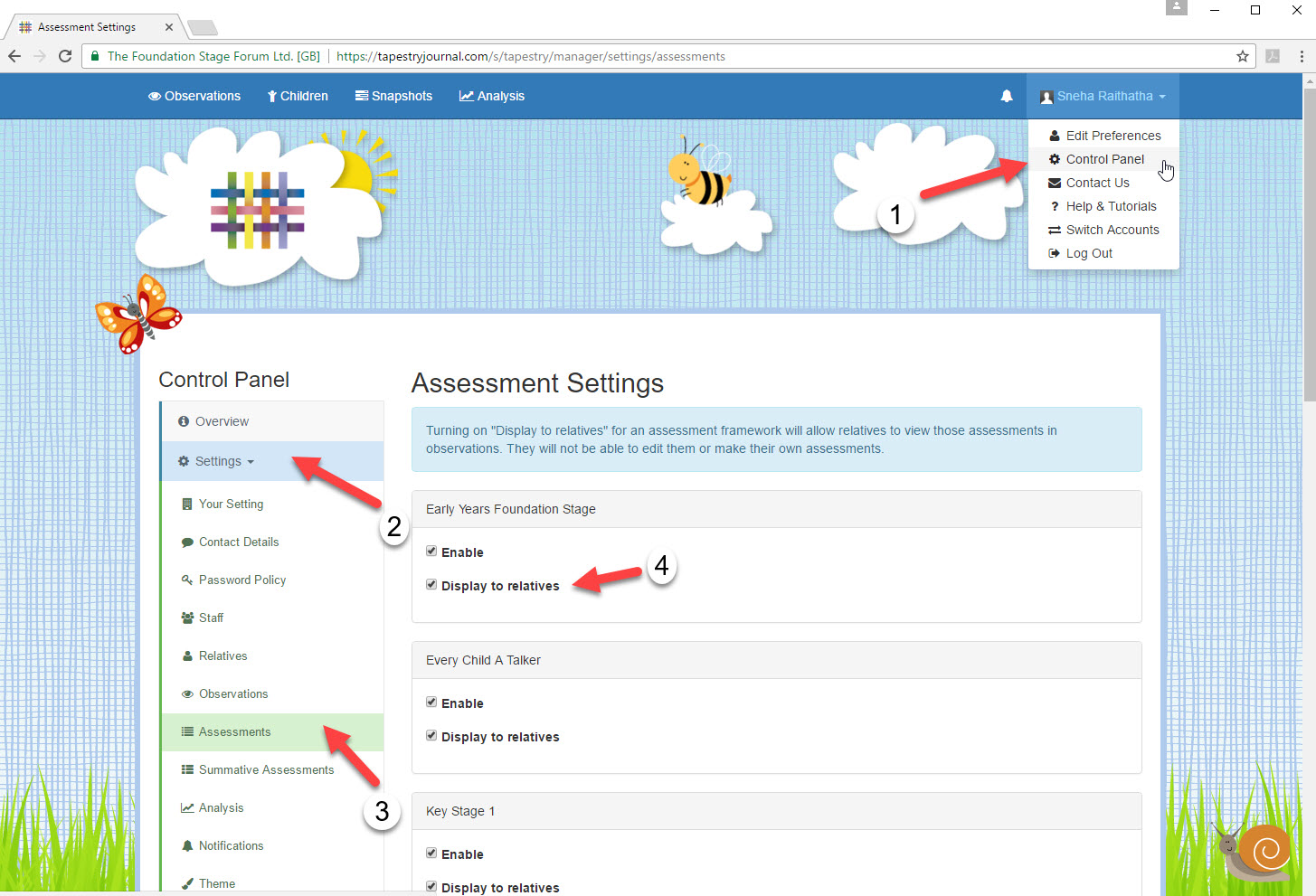 If you are not sure about anything or if you have any follow up questions please feel to contact us at ofni.sfye@ecivres.remotsuc.