This tutorial explains how to delete and restore observations through the web browser version of Tapestry. Deleting observations through the Tapestry app is explained briefly at the end.
Please note that while all staff members can delete observations, only Manager accounts may restore or permanently delete observations.
First log into Tapestry using the web browser version at https://tapestryjournal.com/
On the observations page click the cog icon by the observation you want to delete, or tick the box by several observations you want to delete. Select 'Delete' from the drop down menu to delete the observation.

The observation will be temporarily visible on the observation page as 'deleted' until you refresh the screen or navigate elsewhere in Tapestry. You can use this opportunity to restore the observation by clicking the cog icon by it. Don't worry if you miss this, the deletion is not permanent yet.
Deleted observations are kept in a hidden area of Tapestry which only a Manager account can view, they are not permanently deleted unless a Manager chooses to do so. To view your deleted observations, set your page filters on the observation page to show Observation Status: Deleted.

In your deleted section you can either restore or permanently delete your deleted observations. Only permanently delete them if you are sure you don't want to keep them. THIS IS A PERMANENT DELETION.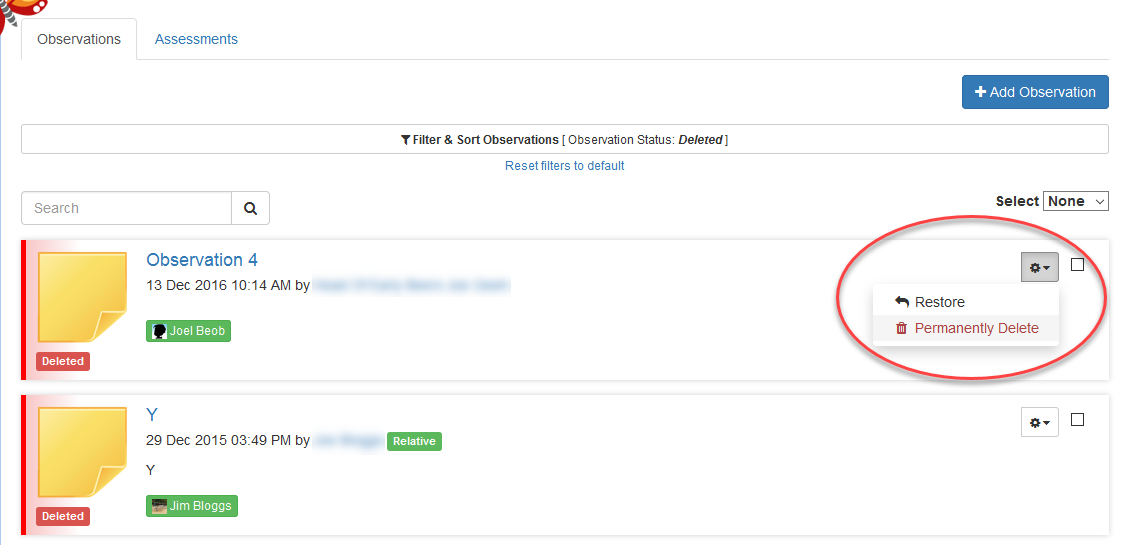 When you are finished, don't forget to reset your page filters to default so you can see your normal observations.
On the mobile app you can delete observations by viewing them and selecting the delete option. Permanent deletion is not available on the app. You will need to restore deleted observations through the browser version of Tapestry.