One of the best ways to see attainment on Tapestry is through the snapshots section. You can see a variety of types, e.g the term with the highest assessed age band and refinement for each aspect, but this tutorial will look specifically at the snapshot for each period for individuals and groups. 

To find it, you first of all need to go to the snapshots section. This can be accessed by any staff member who has been set up on your Tapestry account, but they will need to be logged into the browser version of Tapestry.
Once you have clicked on that, you will be taken to a page where you can select the type of snapshot you would like to see.
 
This tutorial is going to focus on the summative assessments based on each period, but you can also see different types of snapshots for EYFS (1), or snapshots for P Scales, ECAT, KS1 and KS2 by selecting the appropriate one from the bar at the top (2), or by scrolling down the page to choose the one you'd like from the icons below (3). 
As you can see, for the EYFS summative assessments based on periods can been seen in either the individual or group view.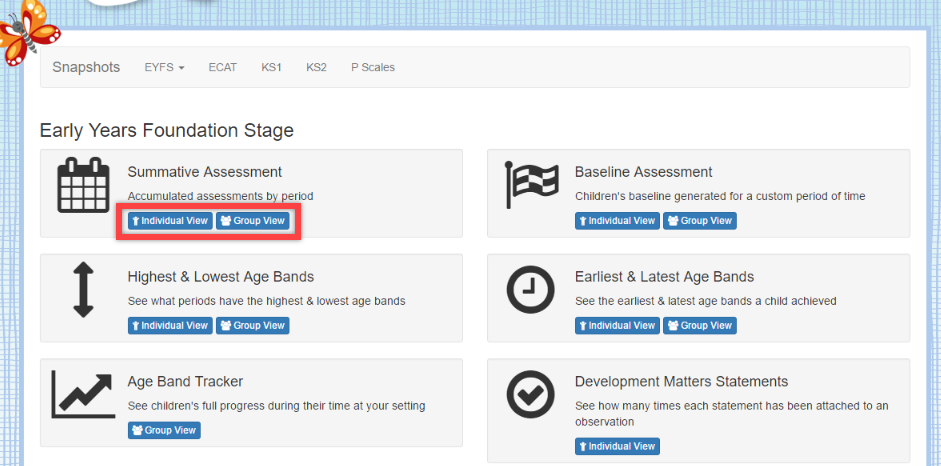 To begin with, let's start with the Individual view. So just click on the blue 'Individual View' button. 
That will take you to a page which will tell you that you're looking at an EYFS summative assessment  for Individual children (1), what the scores that will show up here are based on (2), and ask you to choose a child, year, and period to view (3).

By default the scores that show up here (2) are based on the age bands and refinements that you and your colleagues have selected in the observations you have been making. There are a couple of other options for that which you can see and change from within the control panel. if you click on the blue text ('Age bands and refinements'), you will see an explanation of the option you have selected and a link to the part of the control panel that you need to go to in order to change it. 
 
Once you have chosen the child, year, and period, some more information (1), a form with the child's attainment on (2), and an option to export the form to a CSV or PDF document (3) will appear on that page. 
The additional information will tell you which dates the period you have selected covers and how old the child you selected was at the midpoint of this period. Just below that, you will also see a key which will tell you what the colour coding on the form beneath means. 
The form itself has the different aspects for each AoL in the EYFS framework down the left hand side (1), two drop down boxes (2) and a 'show details button' (3) next to each aspect.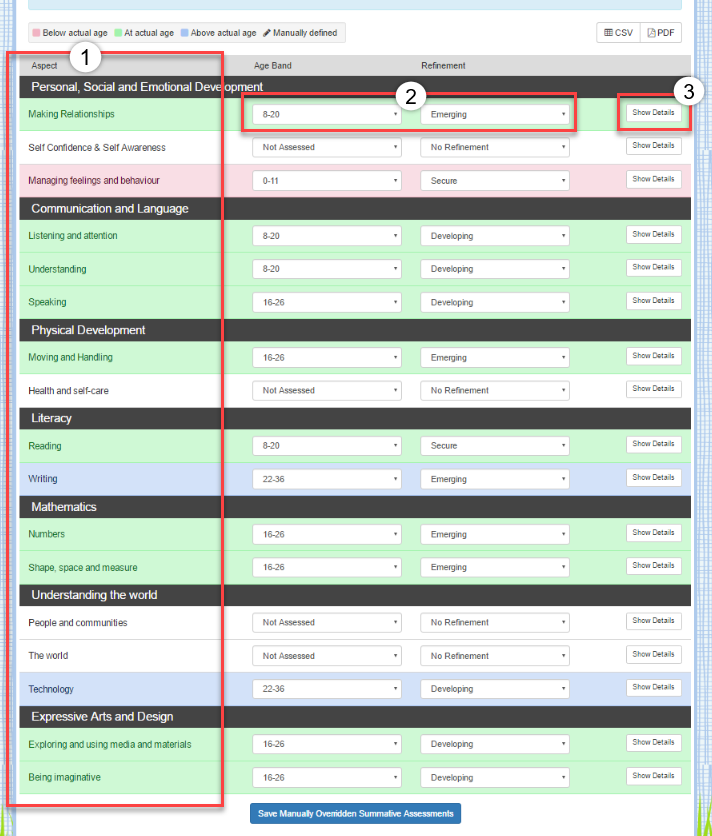 You may notice that some or all of the rows are in a block colour. The ones that are coloured in, for example Making Relationships in the screenshots in this tutorial, have been assessed by someone in this term. You can see those practitioner made assessments by clicking on the 'Show Details' button.
That will open a pop up box with the average age band and refinement for that aspect in that term, and a list beneath that of all the observations that were used to calculate it.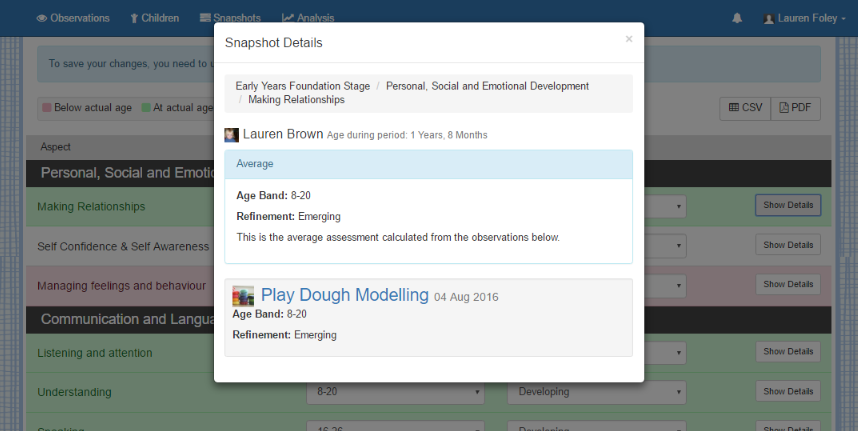 The colours that show up will vary depending on whether that assessed age band is above, below, or exactly where we would expect a child to be based on their actual age. In my example, the child is 20 months old, so any aspects where she has been assessed as either 8-20 months or 16-26 months are showing up green (where we expect her to be). For those where she has been assessed as 0-11 months, we see her as being below where would be expected so the block colour is red. For any areas where she has been assessed as 22-36 or above, we see her as being above where would be expected, so the block colour is purple.

You can also see that on my example there are a couple of aspects that are still white, for example 'Self Confidence and Self Awareness'. This means there aren't any published observations in this area at all (by default it won't include unapproved obs, but you can change that in the settings > Summative Assessments section of your control panel). 
If you don't want to go back and make an observation for this child, but you do know which age band and refinement they should be assessed as, you can fill it in manually. To do that simply click on the drop down boxes and select the correct age band and refinement.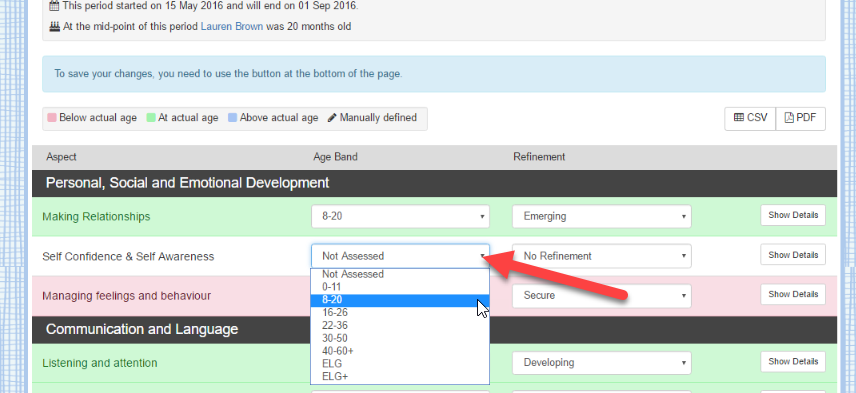 Once you have selected the age band and refinement that you would like, you just need to scroll down to the bottom of the page and click on 'Save Manually Overridden Summative Assessments'.

Once you have pressed that, you will be taken back to the top of the page and will be able to see that the area of learning you just added an age band and refinement to has now changed colour and there is a little pencil next to it. Hovering over than pencil will reveal when it was overridden and who by. 
You can do the same for areas of learning that already have an assessed age band and refinement if you think that they are not accurate. You might want to check the 'show details' pop up first though to see if there is a specific observation which is throwing the average off.
In the same way as overriding an area that hasn't been assessed, you will get the little pencil icon after you have changed it - that will help you to easily pick out the age bands and refinements that might not have supporting evidence on Tapestry.
We recommend that you look at each child's most recent snapshot at the end of every period and make any changes that you want. That way you can make sure all of their assessed age bands and refinements line up with your professional judgement, thus making the analysis section of Tapestry more accurate. 
Group View 
You can also see a group view version of snapshots. That is very similar to the individual view, but allows you to see whole groups at once. It won't let you override the assessment values, but it is very useful for seeing where the gaps in your observations are, and if there are particular areas that children are struggling with/doing very well in. 
To get there you can either click on the 'Group View' button when you first go to the snapshots tab, or, if you've been looking at the individual view, you can get there by clicking on 'Group' near the top of the page. 

Once you have clicked on that, you will be taken to the group view which, by default, will show you the snapshot for all children for the current period. 
As you can see in the screenshot below, you can choose which period you're shown (1), and you have a number of choices to narrow down the group that you're looking at (2). You can do it either by: 
Cohort; Group; Key Person; Gender; Season Born; Special Educational Needs; or EYPP.
You can also change the order in which the children appear (3).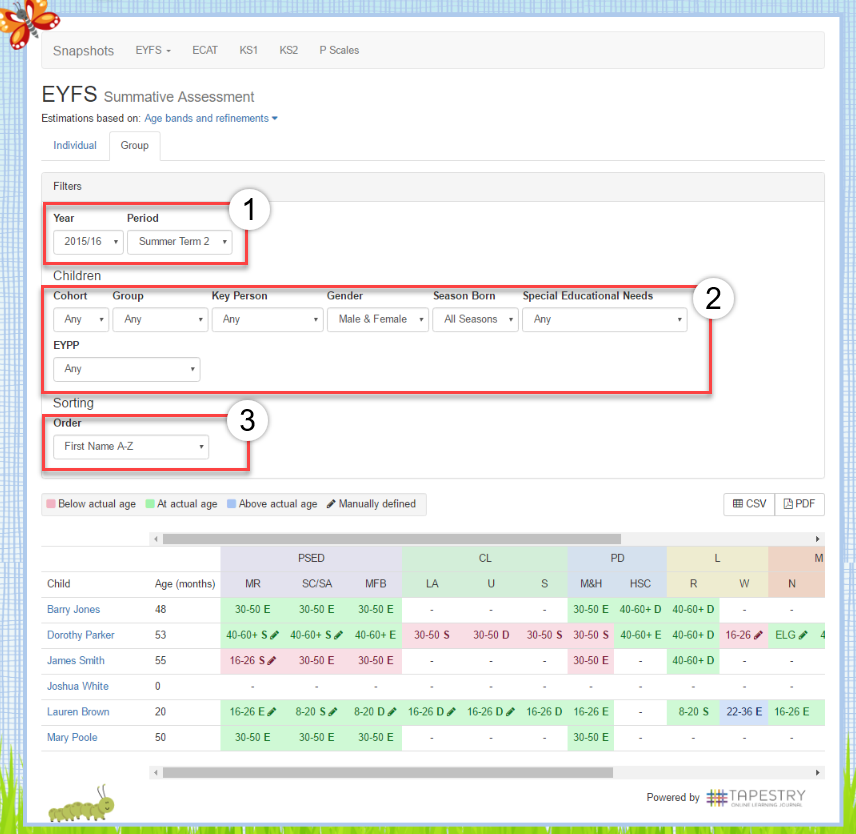 In terms of the form itself, the layout is a little different to the individual view, but the information it shows is very similar. This time you have the children's names down the far left hand side and their ages in months just next to that (1). The EYFS areas and aspects are along the top of the chart (2) - you can use the scroll bar to move across to the ones that don't fit on your page. 

The values within the chart work in the same way as in the individual view; they are colour coded to indicate whether the child is above, below, or at their age related expectation and there is a little pencil next to the ones that have been manually overridden in the individual view. You will also notice that the refinements have been shortened to E, D, and S from Emerging, Developing, and Secure.

The other main thing to point out here is that you can export this chart as a CSV or PDF file by clicking on the appropriate option on the right hand side.