Please note:  If you are completing a complex observation, you should save work regularly and then edit to carry on filling it in...the analogy of a word processor works here, where you have to keep saving your work at intervals in case the computer crashes or the power goes out!  Tapestry relies on login sessions to know who you are, and these will expire after an hour, or it is possible that a network blip could also void your login session.  If either of these happen, you will be presented with a login screen when you press 'save' and your work since the last save will be lost.
Adding an Observation
Once you've added children to your setting you will probably want to record an observation. Begin by making sure that you are in the observation screen (click on the Observations tab at the top of the page), and click on the "Add Observation" button.

You're now in the Add Observation screen, with a large selection of settings.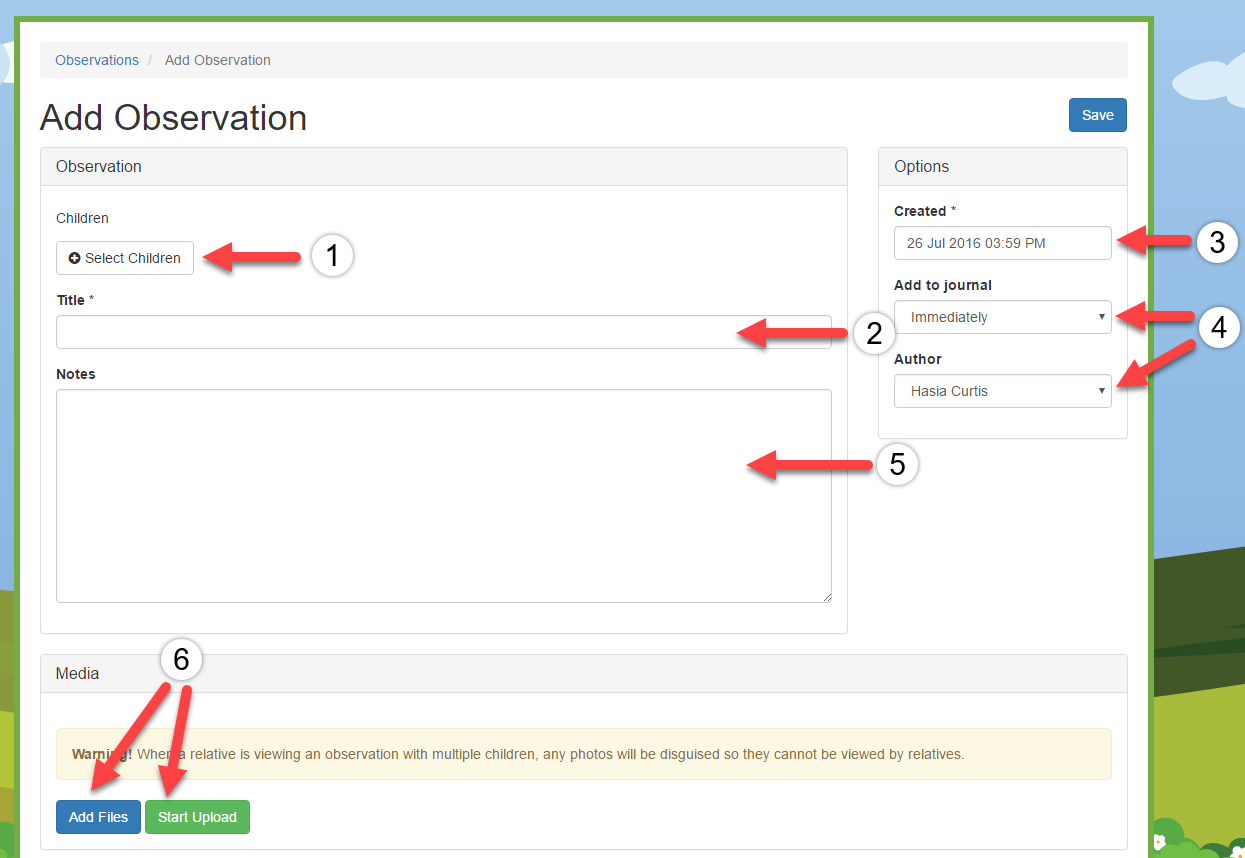 1) Choose single or multiple children for this observation by clicking 'Select Children'.
You can then select children from the list of children or according to the groups created on Tapestry or according to their cohort. You can then select them, and click 'Done' to add them. 
2) Enter a title for the observation
3) Time of the observation, this will be filled automatically with the current date/time, but can be edited to suit
4) Status - this sets the publication status of the observation.  Your choices will be based on role.
                Manager: 
Add to journal now
Save to Tapestry, but make the entry viewable only to staff members (not in journal)
                Staff:
Add to journal now

(only if allowed in settings)

Add to journal after manager's approval

(if above status is disallowed in settings)

Save to Tapestry, but make the entry viewable only to staff members (not in journal)
5) Enter notes about the observation here
6) Upload media such as pictures or video here by clicking on the "Add Files" button to add single or multiple files, then clicking the "Start Upload" button to actually perform the upload.  You will be given the status of the upload(s), and once finished you have the option of deleting any files, either singularly or in bulk, or performing edits such as cropping or rotating pictures.
Deleting media in bulk
When you have added or uploaded the media to the observation, you can also delete the media in bulk, if you then decide not to include this in the observation.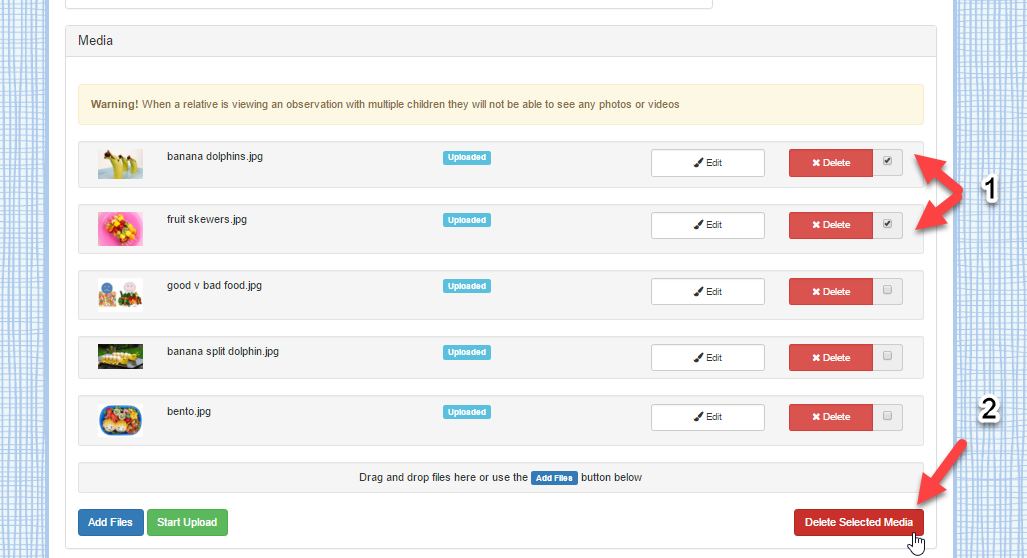 1) Indicates that you can tick the boxes next to the media you wish to delete
2) Once you have ticked the appropriate media to be deleted, you can then press 'Delete Selected Media'.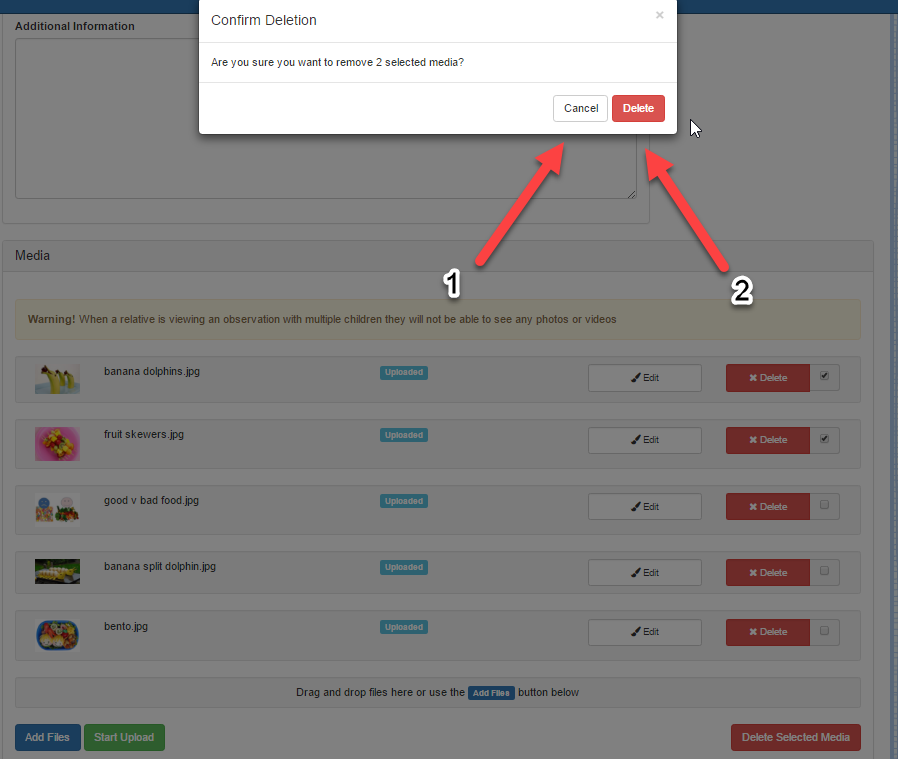 You will then be presented with a window in which you can either cancel your media deletion as indicated by (1) or you can carry out your media deletion as indicated by (2).
You will then return to the observation page where you can continue to add more media or carry on with completing the observation.
You can also carry out media deletion in bulk after the observation has been saved or added to the journal. 
Assessment making
Depending on configuration of your setting, the bottom of the screen can present a number of assessment options. I will quickly take you through how to use the EYFS picker. 
EYFS Development Matters Assessment picker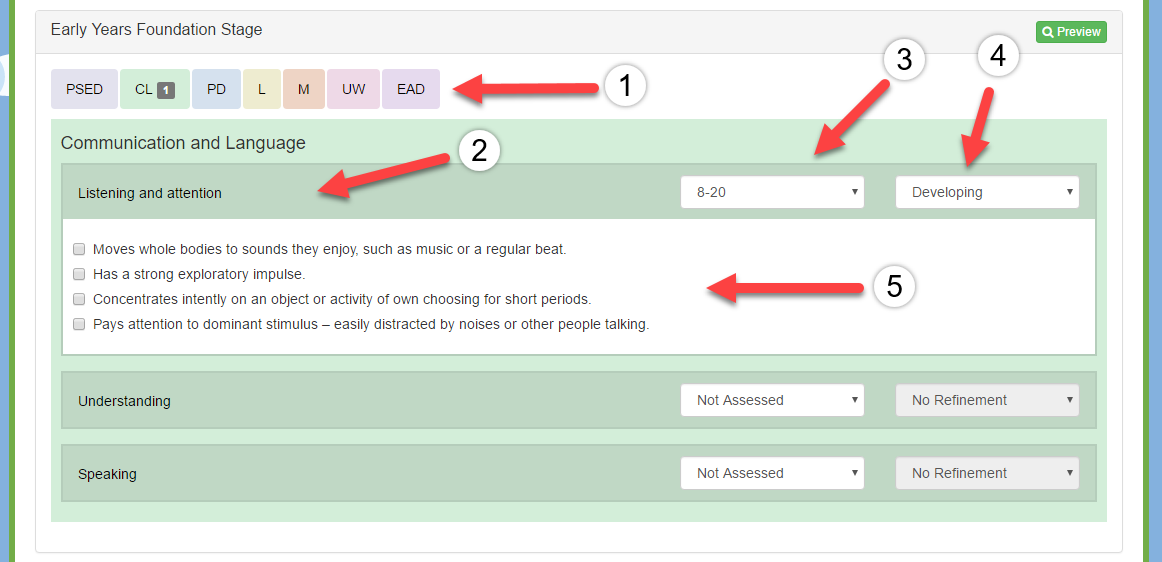 1) Click on the tabs to select an area of assessment:
Personal, Social and Emotional Development (PSED)
Communication and Language (CL)
Physical Development (PD)
Literacy (L)
Mathematics (M)
Understanding the World (UW)
Expressive Arts and Design (EAD)
2) Select the aspect by clicking on it
3) Select the age band
4) Select a refinement:
Emerging
Developing
Secure
5) Click this button to show/hide the typical behaviour statements for the chosen band.
The other assessment pickers behave in a fairly similar way - you just need to select the area/aspect that you want to assess, and select the appropriate statement/level.

The ones we currently have available are Key Stage 1, Key Stage 2, P Scales, Characteristics of Effective Learning, Early Years Learning Framework, Aistear, Every Child A Talker, Preschool Progress Indicators, and Northern Ireland Foundation Stage.
Finally
The final thing to remember to do is click on the save button to make sure all the hard work you've just done entering the observation is recorded!
It's probably worth mentioning that if you select the option to not add directly to journal, you don't need to complete all the fields initially. As long as you give the observation a title and select at least one child, you can save at this point (eg if you've just taken a photo) and then save it. You can then return at a later time to finish the observation off before adding it to the journal (approving it) after which it will be available to parents. If it's a complex observation with, for example, a long set of notes, you might also want to save it periodically just to ensure you don't for any reason lose the work you've done. 'Save' buttons are both at the top and bottom of the screen.