This is a quick tutorial to show you the 'All About Me' feature on Tapestry. It allows you or a child's relatives to fill in a few personal details about them. 
To find it you click on the 'Children' tab and on each child's profile card you can click the blue link to bring up a drop down list. Select 'About Me' from the list.
Once you have clicked on that it will take you to the page shown below. You should then click 'Edit About [Child Name]'.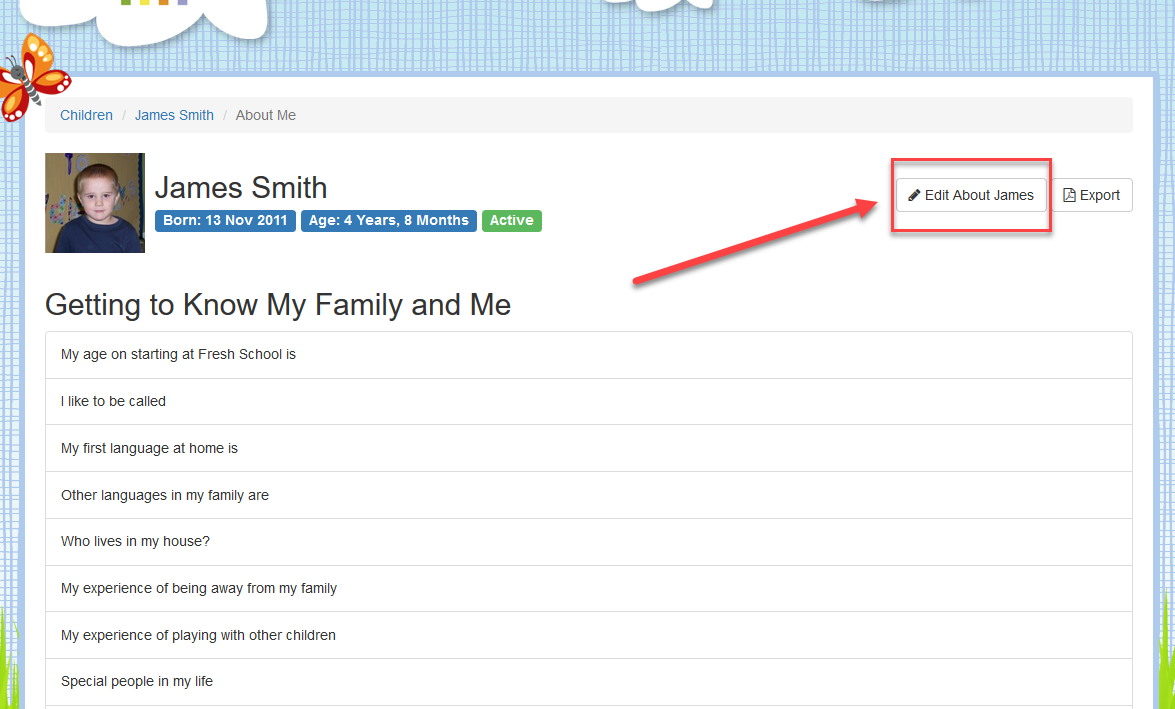 1) This will allow you to choose which questions are relevant to this child. If you don't want to include them, simply remove the tick from the check box on the same line.
If you want to be the one to answer them you can do so by typing in the text boxes. 
2) Please remember to scroll to the bottom and press submit when you're done!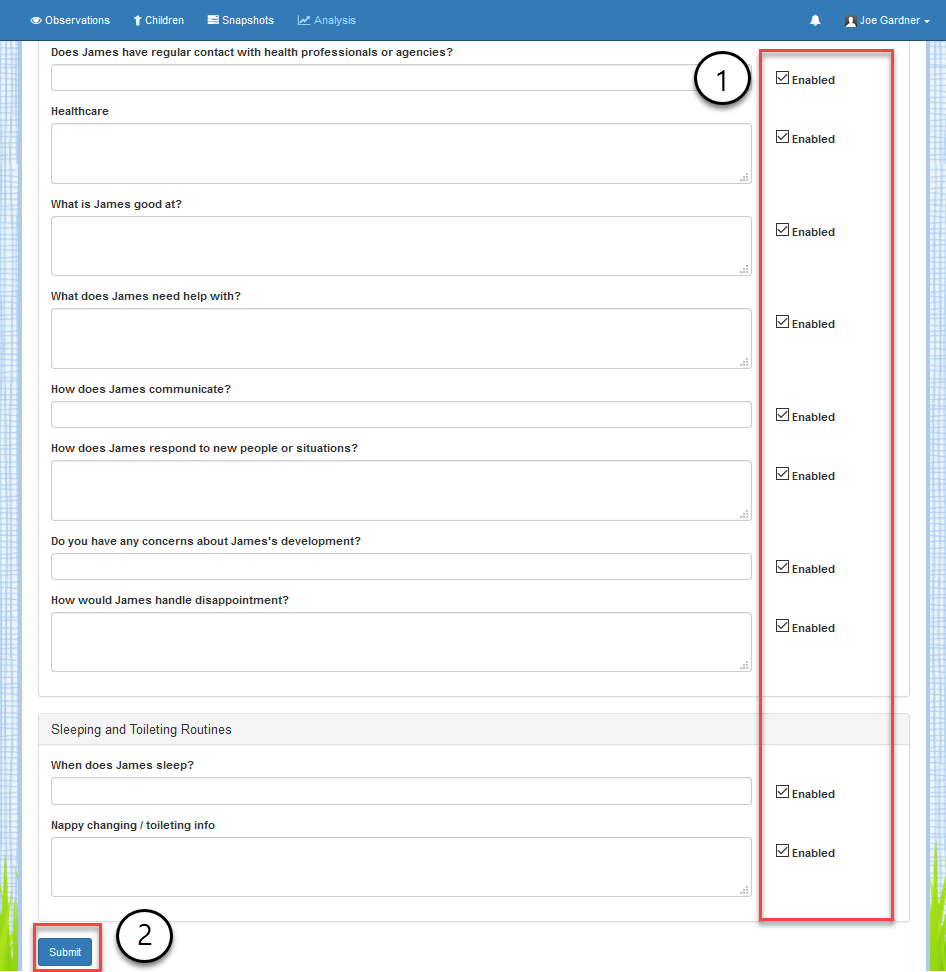 This is what an edited one may look like:
In order to see if relatives can see and/or edit this section you just need to scroll to the bottom of that saved page (1). If you want change these, click on 'Change Permissions' (2).

That will take you to this page. You can change if the child's relatives are able to view the all about me page or not, and if they can edit it. Once you're happy with the changes press update permissions. Please read on if you would like to update all children's permissions at once.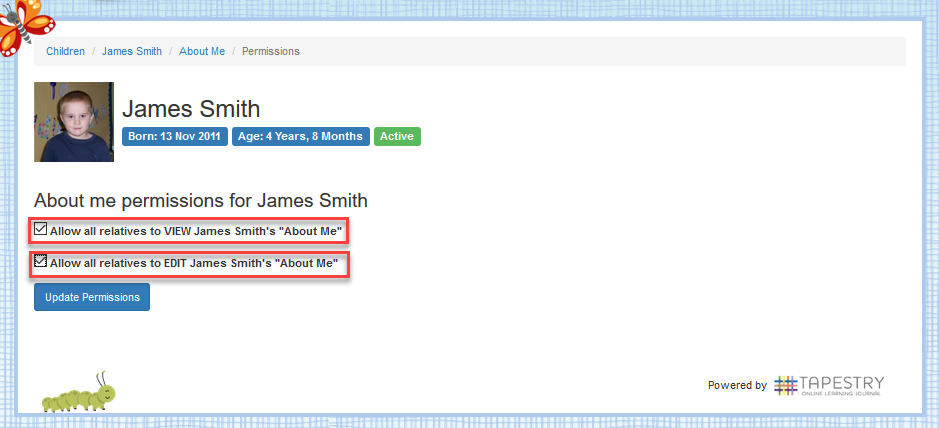 If you want to add your own statements in, or make it so all children have the same available questions or level of relative access, you need to go to the Tapestry Control Panel.
In the Control Panel expand Settings (1) and then select About Me (2)
To select the statements from the default list tick/untick the boxes next to them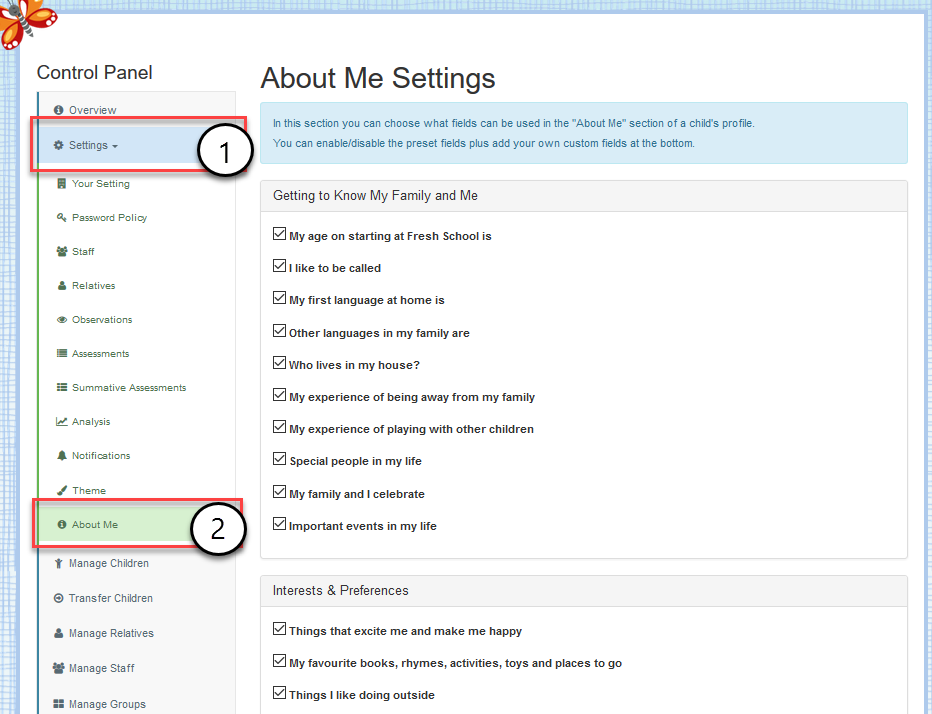 If you'd like to add your own questions, scroll to the bottom and select 'Add New Field' (1). That will make a pop up box appear. You can write your new question here.
When everything is finished select (2) to save settings so your changes are saved.
(3) Updates parental access and edit permissions for all children. It's easier to do this than enabling permission individually.
That's all for now, happy weaving!