This tutorial will take you through how to add relatives to Tapestry and associate them with children in your setting. Hopefully you'll find it to be a pretty simple process!  
In the top right corner of the screen, click on your name to reveal a context menu, then click on "Control Panel".
This will take you to the control panel for your setting.  In the menu on the left side of the screen click on (1) "Manage Relatives" and then (2) "Add Relative".  This will take you to a form with a number of options that will allow you to add a new relative.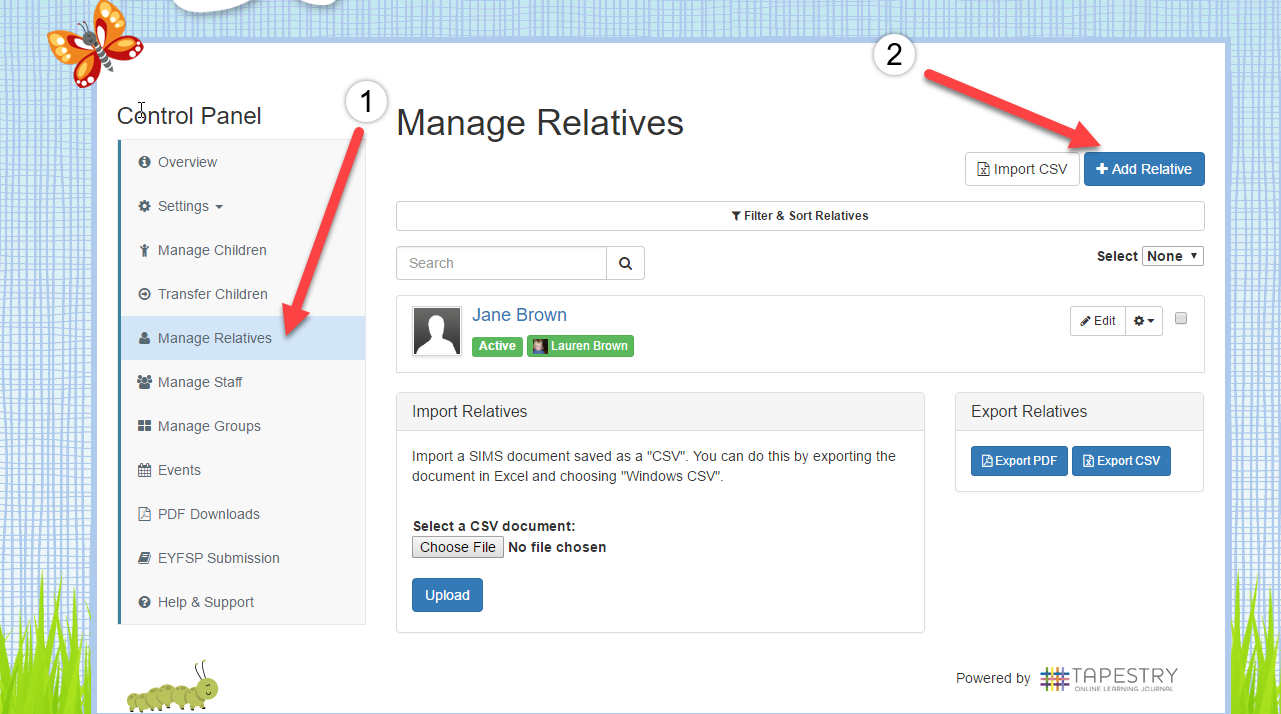 1) Use this button upload a portrait photo of the relative that will be used as their profile picture. This can then be edited by using the crop and rotate buttons (optional).
2) Enter a first and last name for the relative (required)
3) In this next section you will need to enter an email for the relative to log in with.  (required)
If the relative doesn't have an email address, you can make one up for them, but please make sure you don't use a really common domain name (to lessen the chance of the email actually belonging to someone) and ensure that their notifications are set to internal only - otherwise a random person may start receiving them, which could pose a security risk. Using .tapestry (instead of .com or .co.uk) as a fake email domain is a good idea.
4) In regards to the password and pin, you can choose to manually set this, in which case you will have to inform the parent of the password and pin yourself, then get them to log in and change it to something of their own choosing, or you can set them up to receive an activation email.
If you go with the latter option, the relative will be emailed a link which, when clicked on, will take them to Tapestry and prompt them to decide on their own password and pin. If you do decide to do this, please make 100% sure you have the correct email for the relative - otherwise you could potentially send access to the child's journal to the wrong person.
1) : Putting a check in the 'Relative is active' setting means that the relative is able to view their children's learning  journeys when they log into Tapestry.  If, for whatever reason, you need to temporarily prevent  access for this relative, then remove this tick and save. Please note that while the relative is active, even if you haven't told them the password that you set up for them, they will be able to use the 'forgotten password' function to get into the account.
2) Select the relationship of this relative (e.g. Father) and select a child to associate them with. This is optional, but if you don't choose a child to attach them to, they won't see any observations when they sign into their Tapestry account. If a relative has more than one child in the setting, click the "Add Another Child" button, and select them from the drop down list.
3) Make sure you hit submit to create the account or save any changes you have made.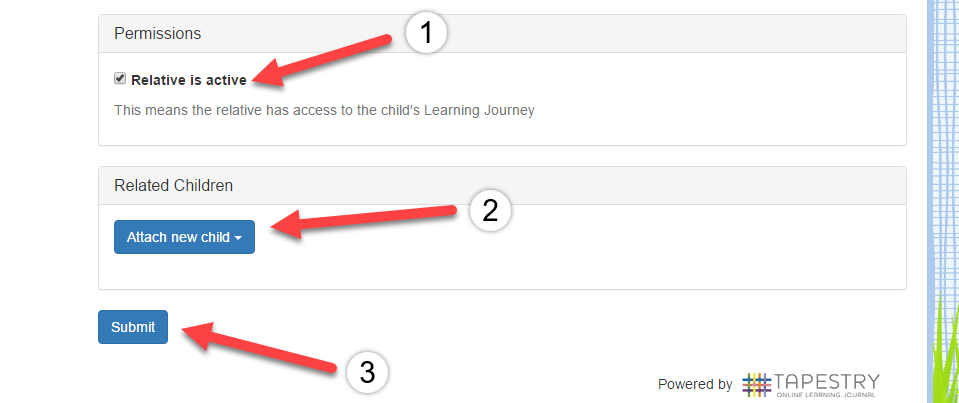 An alternative and quicker method of adding relatives to Tapestry, if you have all their details on a spreadsheet already, is to upload them en masse by CSV file. In order to do this, you simply need to save the spreadsheet in a CSV format (see the CSV tutorial for details on this), then scroll to the bottom of your manage relative page and choose to upload a CSV document.
 
Please note that you will have to connect each child to their relative manually. This is to prevent errors resulting in the wrong people having access to a child's journal. For a more detailed tutorial about that, please see this importing a data file tutorial.
The other thing you will want to do when you first set up relatives, is decide on some some settings regarding what they can see on their accounts. The main place to do that is by going to the (1) 'Settings' option and then click on (2) 'Relatives' from the drop down menu.
As you can see, you can change whether they receive notifications, which assessment types they see, their permissions relating to group observations, and if they can download PDF versions of their children's journals when you generate them.
This is also where you decide whether they can see next obs and next steps. If you don't want them seeing EYFS assessments, you should also have this unticked as the next steps section gives away the current attainment.
The things in these two pages are blanket settings, so they will apply to all children and relatives connected to your Tapestry account. To save any changes you make, please remember to press 'Submit'.