These instructions describe the process of adding an individual child to Tapestry. If you would like to import children in bulk from a CSV file, which you may be able to export from a Management Information System (MIS) or other source, please take a look at the Importing data to Tapestry tutorial. 

This tutorial however, covers how to add children manually, one at a time. 
In the top right corner of the screen, click on your name to reveal a context menu, then click on "Control Panel".
This will take you to the control panel for your setting.  In the menu on the left side of the screen click on (1) "Manage Children" and then (2) "Add Child".  
Once you've clicked on that you will be taken to the form which you will need to fill in to add a new child in Tapestry.
1) Here is where you can add a photo of the child (this is optional). If you do add a photo, it will show up in the list of children, observations etc. You will need to click the "Browse" button to open the file explorer on your computer and select the photo. You can then edit the image if necessary by using the rotate and crop buttons.
2) Enter a first name and last name for the child. You do have to fill in this information to save the child. 
3) Select the correct gender from the dropdown list. You don't have to change this to save the child, but 'Male' will be selected by default. 
4) Enter a date of birth by clicking in the box and selecting it from the calendar. This is required to save the child as it is vital to work out how their assessed age relates to their actual age.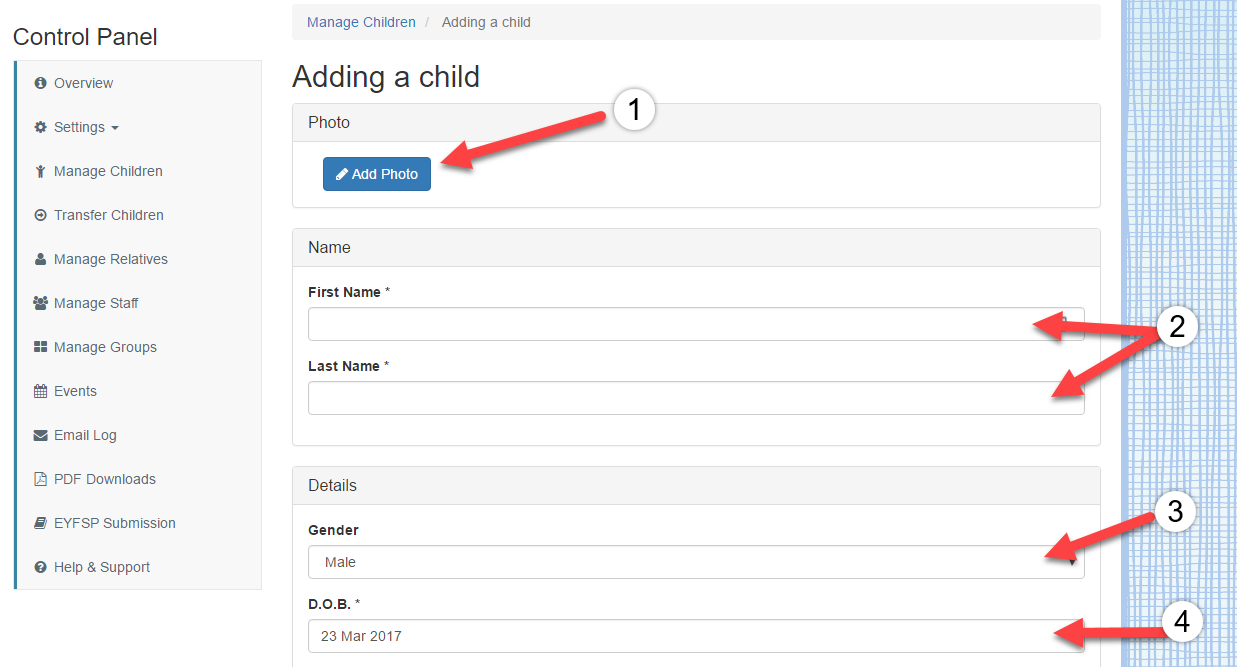 Everything else is optional, but you might find it useful to fill it all in so that you can more easily filter and track progress/attainment of children with specific needs. 

1) Tapestry will automatically assign a child a cohort based on their D.O.B, but you can choose to override that from the drop down box.
2) If your children are in Reception or above, they may have a Unique Pupil Number (UPN). You don't need to enter this into Tapestry, but if you would like to, you can do so here.
3) If you are using Tapestry to create your EYFSP submission you might want to put in their postcode that can be included in the file. Enter that here. 
4) If the child speaks English as an additional language and you would like that to be recorded on Tapestry, tick this box.
5) Use the drop down list indicate whether the child is eligible for free school meals.
6) Tick this box to indicate that the child is receiving pupil premium funding
7) Select a Special Educational Needs (SEN) provision here if required.
8) This status box indicates whether they are active on your account or not. If they are not active they will not count towards your account limit, but you will not be able to see their profile or add to it. If you choose inactive from this list but want to activate them later, take a look at this tutorial.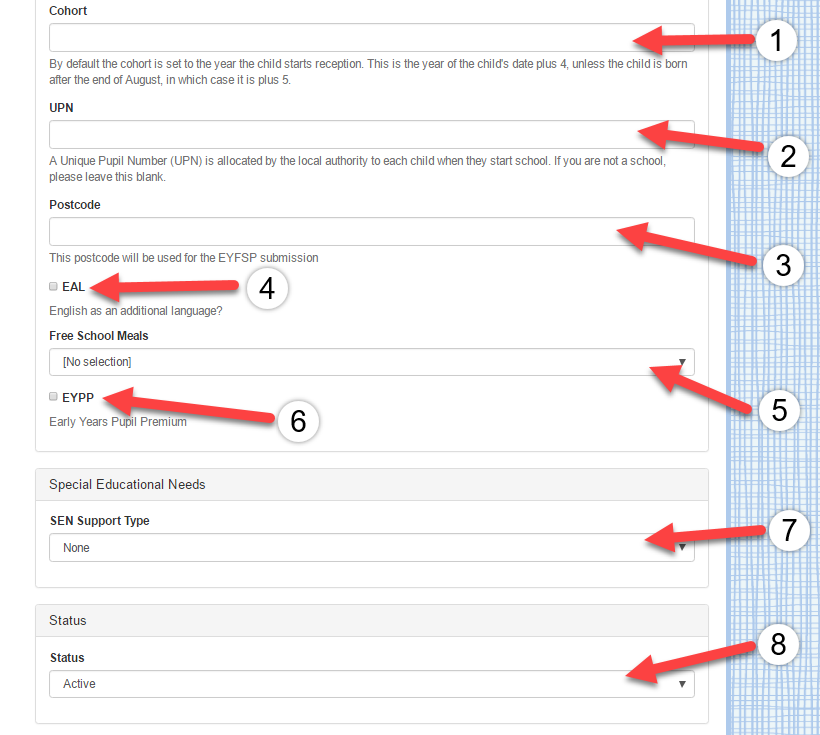 Lastly you have the (1) permissions section where you can choose whether you would like the child's relatives to be able to view and edit the child's 'all about me page'. You can find a more detailed tutorial for that here. 

 
Then you just need to press (2) 'Submit' to save!